Rockies owner on trading Cuddyer: 'No way, not happening'
Contenders looking to add a big right-handed bat will have to look somewhere other than Colorado. Michael Cuddyer is not on the market.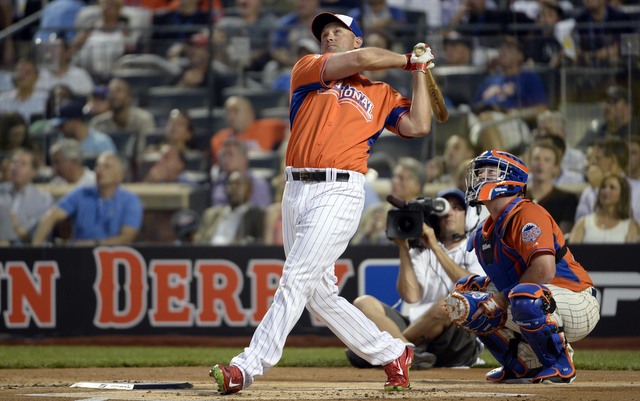 More MLB: Scoreboard | Standings | Probable Pitchers | Sortable Stats | Odds
The Rockies came into the All-Star break with a 46-50 record that has them sitting 4½ games back in the NL West and 7½ games back of a wild-card spot. However, they've lost 29 of their past 48 games, ending the feel-good hot start that had experts reconsidering their bearish preseason projections.
Colorado's management has reportedly been indecisive about buying or selling leading up to the trade deadline, but on Thursday team owner Dick Monfort said in no uncertain terms that All-Star outfielder Michael Cuddyer is not on the market. "No way, not happening," he told Troy Renck of the Denver Post.
Cuddyer, 34, is hitting a robust .330/.391/.568 with 16 home runs, by far the best year of his career in terms of OPS+ (144). Although he has hit better at home in hitter-friendly Coors Field (189 OPS+), Cuddyer has done plenty of damage on the road as well (146 OPS+). He is in the second year of a three-year, $31.5 million contract.
There are a number of very valid reasons to keep Cuddyer this year, obviously. The Rockies are close enough to contention in a winnable division, he's well-liked both in the clubhouse and by fans, he's versatile and reasonably affordable. Even if they are unable to qualify for the postseason, he'll still be around to help them make another run in 2014.
At the same time, I'm getting a 2012 Josh Willingham vibe here. Willingham, coincidentally, was signed by the Twins before last season to replace Cuddyer, and he went on to have a monster year (35 HR and 142 OPS+). Minnesota received a ton of calls from teams looking to add a power bat, but they declined every trade offer and held onto their guy.
This year, the 34-year-old Willingham is hitting .224/.356/.398 (107 OPS+) with 10 home runs and will miss about two months following knee surgery. The Twins, who weren't good enough to contend, lost their best chance to trade him for a maximum return. The Rockies could be doing the same by being unwilling to move Cuddyer now.
Colorado may or may not be good enough to contend right now, but Cuddyer is having a career year and there is no shortage of teams interested in acquiring him. Clubs like the Red Sox, Yankees, Rangers, Tigers and Pirates could all use a bat at one of the many positions Cuddyer can play (first, third, corner outfield).
The market for his services is there right now, and the Rockies could probably net two or three useful pieces to help them going forward. That opportunity won't last forever and for now they seem unwilling to take it.
Mark Appel was one of the players being moved about on Monday night

Garrett Cooper is the answer to a trivia question

We still don't know if Ohtani will be jumping to the majors yet
Kinsler is a free agent next winter

Opening Day will be Thursday, March 29 -- the earliest opening day in MLB history

The World Series champion and big-time wrestling fan was on hand Sunday night