Rockies seek big return from O's for De La Rosa; no progress lately
Baltimore has made offers for lefty ace Jorge De La Rosa but the Rockies seem content to keep him.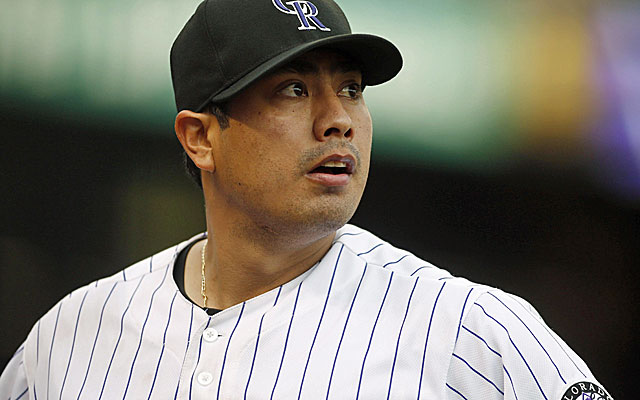 The Rockies and Orioles have engaged for weeks in trade talk involving Colorado lefthander Jorge De La Rosa, but the Rockies are looking for big-time young pitching back in return for their ace and may be content to keep De La Rosa for now if they can't cut a deal.
In any case, there's no evidence talks have progressed in recent days.
The Orioles are said to have made some offers, but the Rockies, figuring they will have the ability to extend a qualifying offer to De La Rosa and at least secure a first-round draft choice if he doesn't take it, are seeking pitching in return that's worth more than a first-rounder in the 2015 draft.
The Orioles, though, have been protective of its very best young pitchers, starting with Kevin Gausman and Dylan Bundy. Baltimore also has Eduardo Rodriguez, Hunter Harvey and Mike Wright in a pretty good stable of pitching prospects, but Colorado is said to be aiming high for its ace -- who's 5-0 in his last five decisions at a time the Rockies are 2-22 in games started by other pitchers since June 20.
Baltimore is in a win-now mode, and the pitching market isn't necessarily flush with affordable good options. Among the top names, Cliff Lee is believed to be too pricey for the Orioles (and maybe everyone else, too, at the moment), Cole Hamels would carry a big price tag in terms of prospects (if he's even available) and there's no surety David Price will be dealt, with even a much smaller probability he'd be dealt within Tampa Bay's division.
De La Rosa made it 41-14 for his career at Coors by beating the Nationals 6-2 Wednesday, striking out 11 in 7 2/3 innings. Colorado hasn't tried to extend De La Rosa yet, but they are said to want him back. While they'd like to keep De La Rosa on a longer deal, the Rockies wouldn't be dissatisfied if he accepted a qualifying offer that's expected to be about $15 million, though after his nice year (11-6, 4.27) there's a chance he may be able to beat that as a free agent, even with the draft choice attached.
No, you're not imagining things. This MLB offseason has been very slow compared to the last...

Francesa will retire from radio next month, so he'll have plenty of free time next summer

Get your sports fans something that they'll wear all year
Get 15 percent off any order of more than $75 at CBS Sports Shop

The Twins need help in the rotation, and they may look to the trade market to find arms

Here are the bullet-points of what went down Tuesday regarding MLB and the Braves' punishm...