Rockies should shift Cuddyer to first, not seek a new first baseman
The Rockies are seeking a new first baseman this winter, but they already have the perfect Todd Helton replacement on the roster.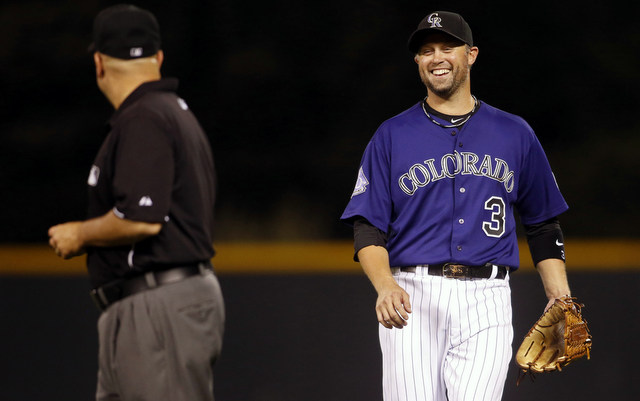 Todd Helton, the greatest player in Rockies history, retired this offseason. The team has spent the last few weeks looking for a replacement first baseman and have interest in guys like Mark Trumbo, Justin Morneau, Mike Morse, Mike Napoli, Corey Hart and James Loney, according to Troy Renck of the Denver Post.
All of those guys are solid players and would help the Rockies next year, but the team already has the perfect replacement for Helton on the roster: right fielder Michael Cuddyer. The 34-year-old won the batting title this past season and hit .331/.389/.530 (140 wRC+) with 20 home runs and 10 stolen bases, earning his second All-Star Game berth.
Cuddyer can hit -- there's never been much question about that -- but his outfield defense is suspect. That's putting it kindly. Among the 82 players who played at least 2,000 innings in the outfield over the last three years, Cuddyer ranks 67th with a -14.2 UZR and 81st with a -34 DRS. Only Raul Ibanez has been worse according to DRS. That's ... bad.
On the other hand, Cuddyer has plenty of experience at first base. He's played 251 games at the position in his career, including 205 over the last five years. The various defensive stats say he's a tick below-average at the position but not a disaster. That's better than a well-below-average right fielder. The team would be moving him to his best position by shifting him to first base full-time.
The Rockies have plenty of outfield depth, even without Cuddyer. Carlos Gonzalez patrols left field while Dexter Fowler holds down center, and guys like Charlie Blackmon (107 OPS+) and Corey Dickerson (99 OPS+) played well enough in limited time in 2013 to earn longer looks. Moving Cuddyer to first would open a spot for those two while improving the team defense.
Guys like Morneau, Morse, Hart and Loney are nothing more than short-term stopgaps. They aren't players who would put Colorado over the top next year. Keeping Cuddyer in right would be understandable if the team manages to trade for Trumbo, who is more of a long-term asset. The same applies for Napoli, who is the best player of the bunch and would require a multiyear contract.
Cuddyer will be a free agent next offseason and he's unlikely to be part of the next great Rockies team. If the team does decide to add one of those first baseman, they'd be better off trading Cuddyer -- his value certainly can not get any higher than it is right now after the year he just had -- than sticking him in the outfield for another year. Dickerson and Blackmon deserve an opportunity as the team builds to the future. The Rockies don't need a first baseman on a reasonable short-term contract. They already have one.
Marcell Ozuna figures to be the next Marlins star on the move

Several relievers have signed in the last two days

Several teams are interested in the switch-hitting first baseman
Neshek and the Phillies are closing on a two-year contract

And the team that first drafted Cole is interested

This scout was SUPER into Jeter