Rockies VP on Troy Tulowitzki: 'He's not going anywhere, period'
The Troy Tulowitzki trade rumors should die a quiet death after the GM meetings.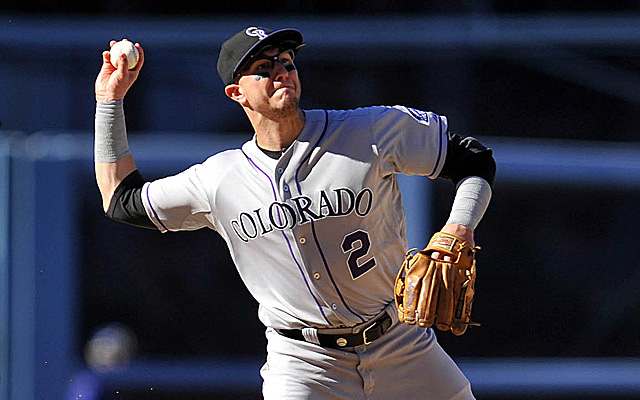 Fans of the Cardinals and/or other teams dreaming of a trade that lands Rockies shortstop Troy Tulowitzki: Keep dreaming.
"He's not going anywhere, period," Rockies senior vice president of baseball operations Bill Geivett told the team's official website late Tuesday night before departing the GM meetings in Orlando.
This comes almost two days after CBSSports.com's Jon Heyman reported there is no evidence the Rockies intend to move Tulowitzki and that at least one opposing GM had been told Tulowitzki is "definitely" not available.
So, this is pretty much final. Leave Tulo's name out of the rumor talk. Unless you're a Rockies fan, you aren't going to be cheering for Tulowitzki anytime soon.
It was back on Sunday when a Yahoo Sports report said the Rockies and Cardinals may talk about a trade involving Tulowitzki at the GM meetings this week, but since then it's been nothing but a series of denials.
Tulowitzki, 29, is the best all-around shortstop in baseball. He hit .312/.391/.540 with 27 doubles, 25 homers and 82 RBI along with his stellar defense in 126 games this past season. His only drawbacks are that he rarely stays healthy for a full season -- he's only played more than 143 games in a season twice in seven tries -- and his gaudy contract. He'll make $16 million in 2014 and then a six-year, $118 million extension kicks in starting with the 2015 season.
Still, with the money being thrown around these days and Tulowitzki's immense upside, holding onto him is the best move.
Does the Jackson signing mean the Giants are out on Lorenzo Cain?

Acuna edged out Shohei Ohtani and Vladimir Guerrero Jr.

There's no reason to run over the cases for and against Bonds, so let's have fun instead
The coveted right-hander would certainly be a fit in Milwaukee

We rate the best mustaches from random baseball cards because, why not?

Colon wants to break a Dennis Martinez record