Rollins clears waivers, but there's no word yet he'd approve a trade
Jimmy Rollins told the Phillies he didn't want to waive his no-trade clause before the deadline. The Cardinals had some interest.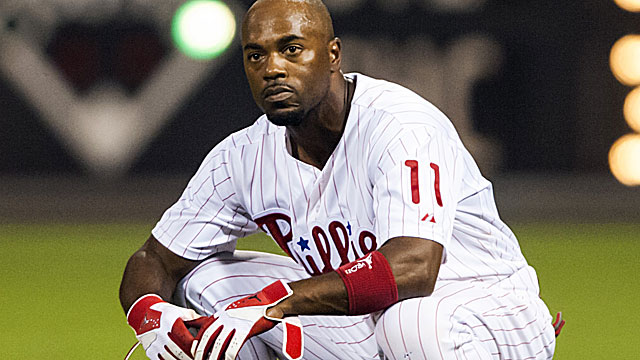 Longtime Phillies star shortstop Jimmy Rollins has cleared waivers, and is eligible to be traded anywhere -- if only he'd consent to it.
Sources say Rollins and infield mate Michael Young both cleared waivers. But while Young had said before the trade deadline he'd be willing to accept trades back home to the Rangers, or to the Yankees or Red Sox, Rollins told the Phillies he had no intention of waiving his full no-trade.
The Cardinals showed some interest in Rollins before the deadline, and a rival GM said Rollins' name came up in talks even after he publicly said he wouldn't accept a trade out of Philadephia. Phillies GM Ruben Amaro didn't respond to a message.
Rollins told friends he wanted to stay with the Phillies because he'd like to move up the team's all-time career lists, and that's what he said publicly, too. "There are still a couple things I would like to be No. 1 on the lists in this organization,'' Rollins told Phillies writers, "so until those things are done, I'm not going anywhere."
Rollins, most notably, is second for career hits as a Phillie, with 2,135, just 99 behind Hall of Famer Mike Schmidt. He is second in at-bats, second in stolen bases and third in runs.
Rollins is hitting .255 with five homers, 32 RBI and 15 stolen bases while continuing to play a stellar shortstop.
He makes $11 million this year and next, meaning he has about $14 million guaranteed through next year. There is also a vesting option for 2015 that triggers with 600 plate appearances in 2014 or 1,100 in 2013-14 combined, provided he is healthy.
Young's chances to be traded are diminished at the moment by his hamstring injury. The Phillies turned down an offer by the Yankees to pay the remaining $5 million or so on his deal and give the Phillies a Double-A pitching prospect.
Foxsports.com first reported that Young had cleared waivers.
Manager Dave Roberts indicated that Puig's benching was related to more than one incident

Manager Torey Lovullo said so on Monday

Let's see how SportsLine forecasts the race for MLB's 10 playoff spots
Monday kicks off the final week of MLB action. Let's take a look at everything that went d...

No other rookie in baseball history has hit more home runs than Judge has this year

Jays have said goodbye to Encarnacion and will to Bautista. Should they move on from Donaldson,...