Rollins responds to benching, says Sandberg is 'upset about something'
Phillies shortstop Jimmy Rollins responded to his benched by saying manager Ryne Sandberg is "upset about something."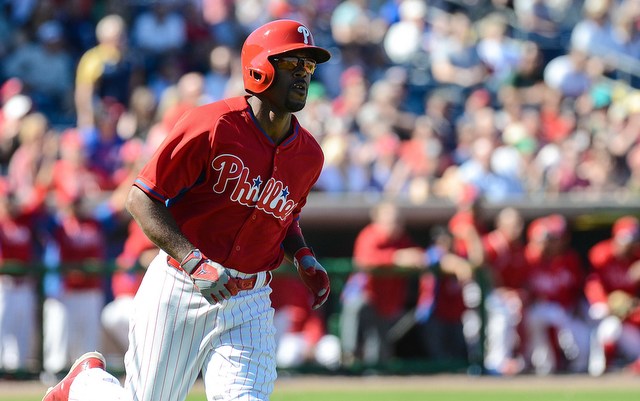 MORE: Spring Training | Scoreboard | FA tracker: hitters | FA tracker: pitchers
Phillies shortstop Jimmy Rollins seems to be in manager Ryne Sandberg's doghouse. He did not play on Thursday for the fourth straight game, and when asked about the situation on Wednesday, Sandberg responded with a simple "no comment."
It was Rollins' turn to talk to reporters on Thursday. Here's what he told Matt Gelb of the Philadelphia Inquirer:
"Obviously he is upset about something," Rollins said.

...

"Well, everyone is allowed to have their own opinion," Rollins said Thursday. "It doesn't make it right, but he's the manager so he gets to have the last say."

"We talk," Rollins said. "Except for the last two days we talk every day. We talk about baseball behind the cage when we're doing our hitting drills. I let people challenge me throughout situations and have fun. No one has a problem with that."

"We're still learning him," Rollins said, "he's still learning us from this side of it."
Rollins will play in Friday's game according to Jim Salisbury of CSN Philly, so the benching will not continue indefinitely.
Sandberg was reportedly not pleased with Rollins' effort level after he took over as manager late last year, particularly with the way he ran out ground balls. It's worth noting Rollins is 35 and he has a history of leg injuries, so if there was ever a time to jog to first, it's spring training. I can't imagine Sandberg is upset with that at this time of year. Is he using Rollins to set an example for the rest of the team? Very weird.
The Rollins-Sandberg relationship is worth monitoring because of the shortstop's contract. Rollins has an $11 million option in his deal that vests with 434 plate appearances this season, a total he's topped (by a lot) in 11 of the last 12 seasons. Regular benchings during the season could result in a lot less money in Rollins' pocket and some bad blood when he becomes a free agent after the season. This is something to keep an eye on.
Despite a seven-game ALCS, the Houston rotation lines up nicely for the World Series

Sabathia and the Yankees are a perfect fit for each other

Bregman threw out Greg Bird at the plate to preserve the Astros' lead
The 2017 World Series begins Oct. 24

The Yankees returned to contention even quicker than their front office expected

The Dodgers have the better defense, rotation, and bullpen, in our estimation