Rondon shaky; Tigers GM says club not eyeing another closer -- yet
General manager Dave Dombrowski isn't ready to pull the plug on the 22-year-old Bruce Rondon. Though manager Jim Leyland is said to seem concerned early.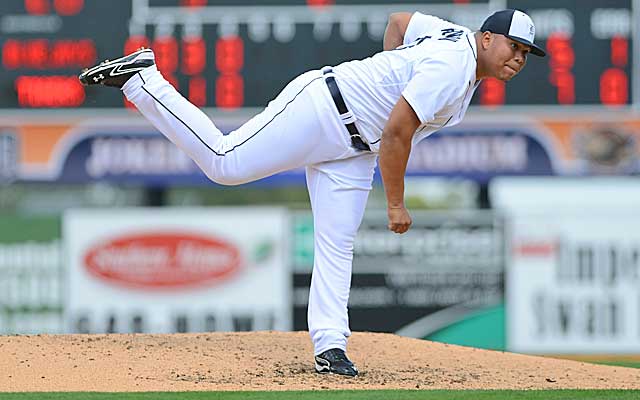 The Tigers may not have a closer issue yet, but they could be working toward one if hard-throwing 22-year-old Bruce Rondon doesn't find the strike zone.
There have been hints out of Tigers camp that longtime manager Jim Leyland is concerned about the current closer situation. However, Tigers management wants to give young prodigy Rondon a full shot -- at least for now.
Leyland is said to remain a fan of veteran closer Jose Valverde, who wasn't brought back after a brutal postseason and remains a free agent. Leyland generally prefers a proven closer.
More on Tigers
Related content
For now, Tigers management wants Rondon, who's had control problems early this spring. Rondon, 22, has pitched only eight innings above Double-A, but he has reached 102 mph on the gun and has the potential to be an intimidating presence.
Rondon's rocky spring start includes four walks in 2 2/3 innings. But Tigers GM Dave Dombrowski isn't ready to pull the plug.
"We're not looking to add anyone," Dombrowski said.
This could become an issue later, though, if Rondon doesn't find the strike zone. Dombrowski has done a nice job building the Tigers, but sometimes owner Mike Ilitch makes extra room for players he likes.
Meantime, there are a lot of eyes on Rondon.
In his eight innings at Triple-A last year he walked seven, though at three levels he combined to go 2-1 with a 1.53 ERA, with 26 walks and 66 strikeouts.
But Leyland has dropped hints of his concern. "I've never seen any pitcher in my life that throws 100 mph and has good control with it," Leyland told Tigers writers. "I don't care what anybody says. When they're throwing it 100 mph, they're winging it." Joel Sherman of the New York Post and Lynn Henning of the Detroit News reported recently Leyland has concerns about Rondon, and Sherman suggested he views Valverde as a possible "safety net.''
The Tigers look like the best team in the American League right now, but some might say they're winging it at closer at the moment. If Rondon can't do the job, Leyland has veterans Phil Coke, Joaquin Benoit and Octavio Dotel to choose from. He had success with Coke when Valverde faltered it in the postseason.
Valverde is the type of established closer Leyland prefers. He's pitching for the Dominican Republic team in the WBC, partly to showcase himself.
The Mets, Marlins and Dodgers are among teams that have shown interest in Valverde. The Blue Jays and  Angels are among other teams that could look at closers, and the Indians recently lost closer Chris Perez, who's at least three or four weeks.
Valverde had a 30.38 ERA in Otcober last year, leading the Tigers to dump him, despite 226 saves since 2007. But if Rondon's struggles continue, you have to wonder whether Valverde could become a more likely option.
The lefty starter is coming off a terrible season

After acquiring Ian Kinsler and Zack Cozart in recent days, the Angels are trending upward

Cozart's coming off a big season as the Reds' shortstop
The veteran slugger spent the last eight seasons with Cleveland

The Padres may be poised for an active winter

Yes, Bryce Harper is going to make a lot of money next winter