Rookie mistake: Padres owner didn't check with Headley about contract
New Padres owner Ron Fowler said they were working on a multi-year offer for star Chase Headley. Only problem is, Headley won't be listening to it.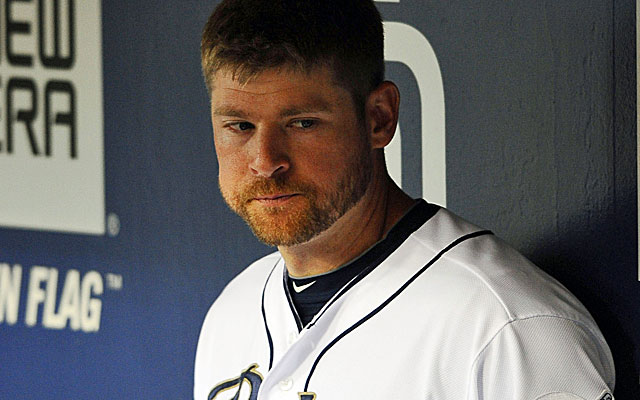 Ron Fowler, the new Padres owner, declared in his local paper that his team was already formulating a multi-year offer to his team's biggest star, Chase Headley, which was to be presented "before midseason."
Only problem is, Fowler never bothered to check with Headley. So let's hope Fowler didn't waste too much time formulating.
Either way, rookie mistake by a rookie owner.
When Headley heard about Fowler's contract intentions through the media he was quite obviously taken aback.
"To be honest, this is not something we've discussed," Headley told Padres reporters.
Then Headley quickly got word to the team that he wasn't interested in discussing a contract during the season. And a lot of players claim a lack of interest ... then they listen to the offer anyway. That's probably not the case with Headley, though. A source close to him says he means it.
No knock on the Padres. Headley just wants to concentrate on playing baseball.
This is maybe something Fowler should have checked into before spouting off. And spout he did.
He talked so much to the Union-Tribune he practically had a negotiation with himself.
"There are three or four elements involved," Fowler, the Padres' executive chairman, said in what the U-T described a wide-ranging interview. (Long-winded is the word that comes to mind).

"One, indentured servitude went out a long time ago, so we can't force him to stay here. However, we feel he's an important part of the franchise. We've had a lot of dialogue with Josh Byrnes (the team general manager) already on it. Sometime in the course of the season -- probably sooner vs. later -- we'll put the offer on the table.

"We want to do what's best for the team. Do we want Chase here long-term? Yes. We're not going to sit here and do nothing," Fowler continued. "That's not in our best interests. But it takes two to dance. One thing you can't do in business is negotiate against yourself. That doesn't make any sense."
Even if Headley was ready to disrupt his season to chat with Fowler, there is no reason to believe a quick deal was in the offing. The sides talked about multi-year possibilities this winter before reaching a one-year arbitration-avoiding agreement at $8.575 million for 2013, and there is zero indication they were anywhere near close to getting something done.
Here's the issue: The small-market Padres, while being willing to give him the biggest deal in team history, as Fowler said (that means more than Jake Peavy's $52 million deal), were not going to be looking to repeat the nine-figure deals given recently to third base stars David Wright, Evan Longoria and Ryan Zimmerman.
The Padres deserve credit for getting Carlos Quentin and Huston Street locked up to deals of three years and two this winter, but Quentin is a San Diego product and Street also seemed committed to staying.
Headley very likely would be aiming to put himself into the category of the other elite third basemen -- or, if not, very close. The Padres aren't going to be in that ballpark, not with two years to go before his free agency.
Headley doesn't have the long track record certainly of Wright or even Longoria or Zimmerman. But others still suggest his huge 2012 season makes it unlikely he'd take anything much below Zimmerman's $100 million, six-year deal. (Casey Close, one of Headley's representatives, declined comment.)
Headley, who had 31 home runs, 115 RBI and a .286 batting average in his breakout 2012 season, hasn't had the offensive consistency of Zimmerman. But, like Zimmerman when he signed, he's two years away from free agency. He's had fewer injuries -- though he began the year on the disabled list with a fractured thumb suffered late in spring training, he's back already -- and he's coming off a year when he won both the Gold Glove and Silver Slugger and finished fifth in NL MVP voting despite the Padres being also-rans. (Disclaimer: I was one of four voters who didn't include him on my ballot precisely because he played for a non-contender.)
"He has to get the Zimmerman deal," one baseball executive said.
The Padres, playing one of baseball's smallest markets, weren't going to go there.
But now, they may not be going anywhere. The talks are over before they started. They amounted to nothing more than value-less ruminations by a rookie owner.
Wright was arrested at his home Friday

The former Tigers teammates were voted into Cooperstown by the 16-person Modern Era Commit...

The Yankees still have room for a good-sized signing even after Saturday's trade with Miam...
St. Louis gets some much needed help for their bullpen

Keep tabs on the top 50 free agents right here

Morrow thrived with the Dodgers last season