Rotation dominance a necessity for Dodgers, not a luxury
The Dodgers very nearly threw back-to-back no-hitters, a reminder of just how dominant their rotation can be.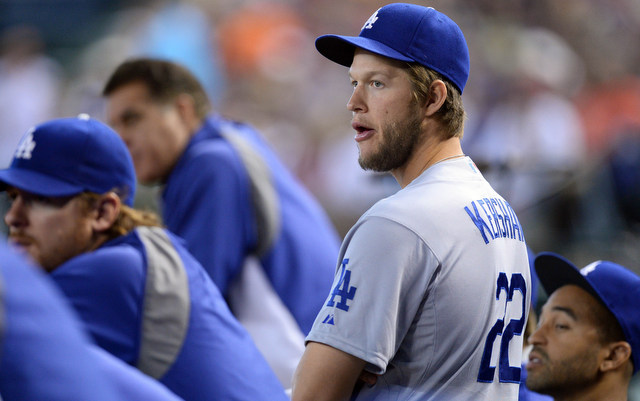 More MLB: Power Rankings | Expert Picks | Latest news & notes | Fantasy news
Admit it. It would have been one of the coolest things ever if the Dodgers had managed to throw back-to-back no-hitters on Sunday and Monday. Even the most die-hard Giants fan can appreciate something amazing like back-to-back no-nos. It would have been incredible.
Josh Beckett finished off his no-hitter against the Phillies on Sunday, though Hyun-Jin Ryu had his perfect game bid snapped by a leadoff double in the eighth inning on Monday. Los Angeles did manage to go 17 straight innings without allowing a hit at one point, which tied a franchise record. It was an impressive run of dominance.
That dominance is not a fluke either. The Dodgers' rotation came into Monday with a 3.17 ERA and a 3.07 K/BB ratio, the fourth- and fifth-best marks in baseball, respectively. If you prefer advanced stats, they ranked 10th in baseball with a 3.70 FIP. Even with Paul Maholm posting a 5.50 ERA in seven starts, the staff has still been excellent.
Given his injury-riddled 2013 season, Beckett's success (2.43 ERA) comes as the biggest surprise. Thoracic outlet syndrome is no joke, but he has come back very well. Dan Haren is not what he once was, but he is still a quality pitcher and his 3.16 ERA is not a shock. Nothing Clayton Kershaw (3.49 ERA), Zack Greinke (2.01 ERA) and Ryu (3.00 ERA) are doing is a surprise, either. Well, I guess it's a surprise Kershaw's ERA is so high, but you know what I mean.
Speaking of Kershaw, the Dodgers were without their two-time Cy Young Award winning left-hander for about a month with a back issue earlier this year. Ryu missed several weeks with a shoulder problem, hence seven starts for Maholm. Guys named Stephen Fife and Red Patterson even made starts for Los Angeles this year. They've been outstanding while being at less than 100 percent.
The Dodgers came into the season with the highest payroll in baseball history, more than $230 million in player contracts (the exact number varies depending on who you ask). That payroll does not mean their roster is well-rounded, however. They are paying four outfielders huge money, they didn't have an obvious second baseman on Opening Day, and Chone Figgins (yes, Chone Figgins) is on the bench. It's a flawed roster, no doubt.
The rotation is the clear strength of the team. Kershaw and Greinke are paid very handsomely to be elite and elite they have been since the start of last season, when they were paired together. Ryu has exceeded expectations after coming over from Korea last year, and Haren is nothing if not a workhorse. Beckett's rebound is icing on the cake. Chad Billingsley is due back from Tommy John surgery in the coming weeks, adding another quality arm to the staff.
With the inconsistent lineup (4.29 runs per game, 12th in MLB) and a leaky bullpen (4.15 ERA, 24th in MLB), manager Don Mattingly has to lean on that rotation to get his club back into the thick of the NL West race this summer. That is especially true with Juan Uribe and Hanley Ramirez banged up, and Matt Kemp apparently being benched for defensive reasons. Did I mention the bullpen has been shaky? That's a problem.
The Dodgers very nearly watched two of their starters -- their nominal third and fourth starters, mind you -- throw back-to-back no-hitters these last two days. They will now send Kershaw and Greinke to the mound the next two days. Their rotation is deep and excellent, and it is very much a necessity because the rest of the roster is flawed. The Dodgers have invested heavily in their rotation the last two years, and their chances of contention in 2014 rest on the shoulders of these five starters.