Rotation durability, stability a key component for several playoff teams
The Tigers, A's, Reds and more have had great durability and stability in their starting rotations this season and it shows.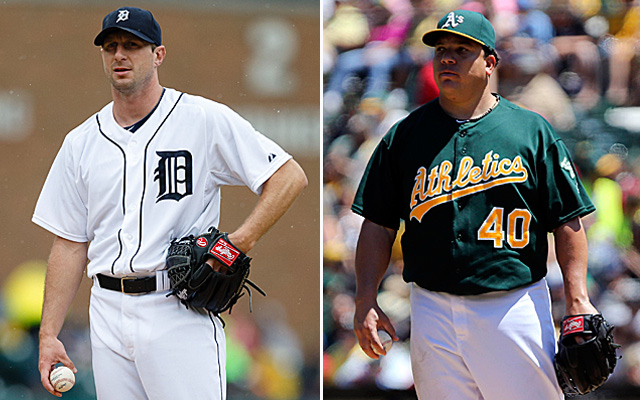 More MLB: Scoreboard | Standings | Probable Pitchers | Sortable Stats | Odds
Heading into the playoffs last season, I noted that the Reds and Giants both rode historically stable and durable rotations -- as each saw five starting pitchers make at least 30 starts.
Durable in that injury was largely avoided. Stable in that the need to replace pitchers due to poor performance wasn't warranted.
Heading into this postseason, we have several teams with similar success on the hill. No one is going to end up with five guys making at least 30 starts, but the Tigers will end up one Anibal Sanchez start short.
It's obviously not a hard-and-fast rule, but generally speaking, if teams get a large number of starts from as few starters as possible, the chances of success will be higher.
I went through and tallied up a few numbers with admittedly somewhat arbitrary endpoints to find the best teams in terms of stability and durability. Here are the findings for this season.
Teams that used nine or fewer total starting pitchers this season: Tigers (6), Athletics (7), Reds (8), Yankees (9), Indians (9), Royals (9), Diamondbacks (9) and Cubs (9).
Each of those teams are over .500 other than the lowly Cubs. It looks like four of them are headed to the playoffs, so that's half the group.
Teams that got 20-plus starts out of at least five different pitchers: Rays (6), Braves (5), Tigers (5), Indians (5), A's (5), Diamondbacks (5), Angels (5) and Astros (5).
So we have six teams over .500, one team close and the worst team in baseball. Still, of the eight teams here, five appear playoff bound. Let us also note that the Pirates have three guys with at least 20 starts while both Gerrit Cole and Charlie Morton have made 19. So they're very close. The Reds are also two Tony Cingrani starts away from being on this group.
And, in all honesty, can't we discount the Astros' inclusion here because they are blatantly not trying to win? That is to say, a starter losing his job due to poor performance isn't near as likely to happen with them.
Not only that, but the Angels only had one starter make more than 25 starts, so they weren't exactly kings of durability and stability.
That would leave only playoff teams and the D-Backs.
Teams that got 25-plus starts out of at least four starters: A's (5), Tigers (5), Red Sox (4), Braves (4), Reds (4), Nationals (4) and Yankees (4).
So seven teams all finishing above .500, five of them playoff teams. Not surprising.
Teams appearing on at least two of the three above lists: A's, Braves, Tigers, Reds, Indians, Yankees, Diamondbacks.
Five playoff teams and two with winning records.
Teams on all three: A's and Tigers, with the Reds just two Cingrani starts away.
Playoff teams.
Making the playoffs doesn't have a specific formula in terms of roster construction. We all know that. It's incredibly complicated and still dependent upon largely unpredictable performance by human beings. Plus, the pitchers have to perform. The Diamondbacks, for example, were durable and technically stable, but they enter Wednesday ranking 10th in the NL in rotation ERA.
So as I said, it's not a hard-and-fast rule I'm discussing. Generally speaking, though, having the fewest number of pitchers make the most number of starts is a good place to start in finding a contender -- so long as they're supported by offense, defense and good management to varying degrees.
As I said, this is a key component, not necessarily the key component and definitely not the only one.