Rotation, not only offense, carrying Royals during 10-game win streak
The Royals' lineup has come to life since they changed hitting coaches, but their rotation is a big reason why they've won 10 straight as well.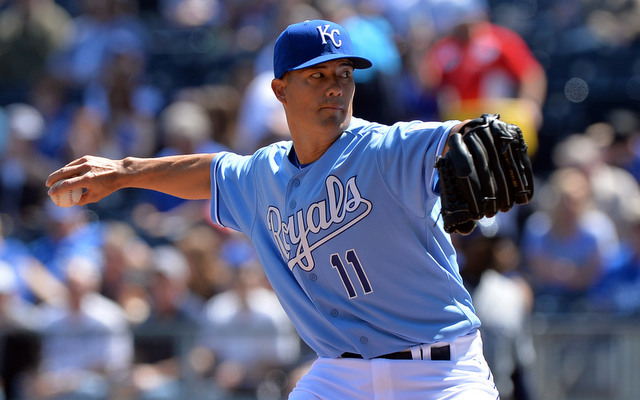 More MLB: Power Rankings | Expert Picks | Latest news & notes | Fantasy news
The Royals held on for a 2-1 win over the Tigers on Wednesday afternoon (box score), their 10th consecutive victory and 15th in their past 19 games. The hot streak has moved them from 6½ games back of Detroit for first place in the AL Central to 1½ games up.
Kansas City changed hitting coaches on May 29 -- Dave Sveum replaced Pedro Grifo -- a move that coincides perfectly with the start of the 15-4 stretch. The Royals hit .251/.306/.348 with 21 home runs in 52 games (3.79 runs per game) under Grifo and, following Wednesday's game, they are hitting .290/.338/.443 with 19 homers in 19 games (5.58 runs per game) under Sveum. That's quite the turn around.
Teams replace hitting coaches because they're unhappy with the offense, and while we'll never really know how much of the improvement stems from replacing Grifo with Sveum, the move has had the desired effect. Replace the hitting coach and the slumping offense comes to life? It's too perfect.
While the suddenly dominant offense has played a huge role in the team's recent hot streak, the Royals are also piling up wins because their starting pitchers have been excellent. Not that they weren't good before, but they've taken it to another level of late. Here's the breakdown:
2014 Royals Rotation
Games (W-L record)
IP per Start
ERA
FIP
WHIP
K/9
BB/9
HR/9
1 thru 61 (29-32)
6.1
3.96
4.19
1.29
6.49
2.61
1.16
62 thru 71 (10-0)
6.7
2.43
2.27
1.18
7.83
2.16
0.13
The team's starters did not allow a home run during the 10-game winning streak until J.D. Martinez took Jeremy Guthrie deep in the seventh inning on Wednesday. That was after Guthrie struck out a season-high nine batters for the second straight start. He hadn't struck out more than seven batters in a game since his first start of the 2013 season.
There was no change at pitching coach, no convenient narrative to follow. The Royals' rotation has simply been on an excellent run and is a big reason why the club has won 10 straight games for the first time since winning 14 straight in 1994. The offense is scoring a boatload of runs and giving the starters a nice cushion, and the pitchers have responded by pitching like aces everyday.
Will this continue the rest of the season? Of course not. No rotation sustains a 2.43 ERA (or a 2.27 FIP, if you prefer something a little more in-depth) for an extended period of time. Especially not an AL team that has to contend with the designated hitter. James Shields is awesome, Jason Vargas and Guthrie are solid, and both Yordano Ventura and Danny Duffy are exciting, but come on. This won't last forever.
That's totally fine, though! These 10 consecutive victories are already in the bank and the rotation has performed brilliantly during that stretch. We can't take that away from them. It happened. It's done. Now the Royals have to capitalize on this run and build on their division lead. Jumping over the Tigers and into first place is the easy part. Staying in first place for another three and a half months will be the real challenge.
A beardless Wilson says that he tried to outrun the police on the second day he had his driver's...

The Diamondbacks outfielder was not impaired, he was just going way too fast

MLB can unilaterally implement rule changes, which will also include limits on mound visit...
If the MLBPA wants to repair MLB's salary structure, it should push for more money for young...

Fans aren't happy Gerrit Cole and Andrew McCutchen have been traded away

Acuna is arguably the best prospect in baseball