Rotation poker hands: AL Central
We're just about a week and a half from actual regular-season baseball, which means teams are beginning to round out their rosters and starting rotations. Just for fun this week, in addition to ranking the rotations in each division, we are assigning a poker hand to each rotation. Wednesday it's the American League Central.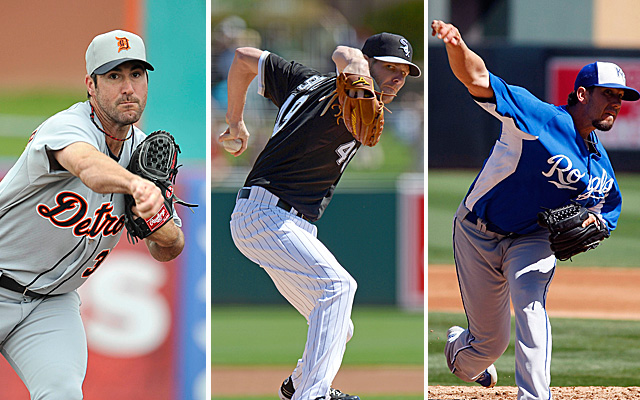 Rotations as poker hands: AL West | NL West
We're just about a week and a half from actual regular-season baseball, which means teams are beginning to round out their rosters and starting rotations. Just for fun this week, in addition to ranking the rotations in each division, we are assigning a poker hand to each rotation.
A reminder: Do not correlate individual cards with individual players. We aren't assigning a card to a player, otherwise a terrible rotation (with, let's say, four 2s) would make an awesome hand (four of a kind, in this example). Specifically, below, Justin Verlander is obviously one of the top aces in the league, so please don't think I assigned him to a nine. We are looking at the rotation as a whole and what kind of poker hand we liken it to.
And now, the AL Central.
Detroit Tigers
Rotation: Justin Verlander, Doug Fister, Max Scherzer, Anibal Sanchez, Rick Porcello
The Tigers ranked second in the AL in starting pitcher ERA last season and that was with Fister missing time due to injury and only a half season from Sanchez. Also, if we're judging the rotation in a vacuum, it's much better than traditional stats indicate because the Tigers' defense was woeful last season. Fielding independent pitching (FIP) shows Scherzer and Porcello specifically were badly harmed by the defense. Don't expect the defense to be much better -- although the zero-percent chance of now-departed "outfielder" Delmon Young helps a little -- this time around. Still, a full season of health for Fister, having Sanchez around for the full schedule and a potential breakout campaign from Porcello say this staff could be even better.
Hand they've been dealt:

That's a full house -- an outstanding hand with a chance to win the overwhelming majority of deals. You'll only see a small handful of teams with a better hand than this. We're talking about a loaded rotation.
Chicago White Sox
Rotation: Chris Sale, Jake Peavy, John Danks, Gavin Floyd, Jose Quintana
This group provided three very positive movements last season.
1. Sale emerged as an ace.
2. Peavy stayed healthy and was his old bulldog self -- even if he'll never have the electric stuff again.
3. Quintana emerged as a quality starter.
Then again, Floyd was mediocre and Danks was awful before injury. The White Sox ended up seventh of 14 AL teams in ERA.
Danks might have to open this season on the disabled list, Quintana is likely due a regression and we can't think about Peavy without the realization that he's going to be a health risk the rest of his career. There's good upside overall, though, if Danks gets healthy.
Hand they've been dealt:

Two pair with a queen kicker. With no wild cards, it's worth staying to the end of the hand in most cases -- unless someone bets you out of a reasonable price range. The bottom line is this rotation looks to be around league average with an ace-caliber starter at the front.
Kansas City Royals
Rotation: James Shields, Jeremy Guthrie, Ervin Santana, Wade Davis, Bruce Chen
The Royals' starters last year were collectively terrible, but there's been a makeover. Shields is a workhorse and escaping the treacherous AL East should provide a bit of a boost. Guthrie was 5-3 with a 3.16 ERA after joining the Royals. Santana has potential to be good but is maddeningly inconsistent. Davis' career numbers as a starter aren't bad, but he's much better out of the bullpen.
Hand they've been dealt:

That's a King-high. It's not a very good hand, but if you're playing at a small table and there are no wild cards, it's entirely possible this would be a winner. There's also potential here to be better, so let's say this is a five-card draw hand, predraw, with a chance of drawing into something better.
Cleveland Indians
Rotation: Justin Masterson, Ubaldo Jimenez, Brett Myers, Zach McAllister ... Carlos Carrasco? Scott Kazmir? Trevor Bauer?
The Tribe ranked dead last in starter ERA last season in the AL and things don't look a ton different. The best guess is Myers serves as an upgrade over Derek Lowe and the junk the Indians tried to replace him with. Masterson will absolutely be better than he was last season and even though I have ragged on him plenty in the past, Jimenez will be a tad bit better as well. And though it's hard to count on a ton this season, there's serious upside in Bauer as well as possibly Carrasco and even Kazmir.
Hand they've been dealt

It's only a jack-high. Like the Royals, let's say this is predraw and they're awfully close to drawing into a straight. Also, remember in the Tigers' section where I said this exercise is in a vacuum? Well, in the regular season it's not and the Indians are going to have a stellar defense. Don't be surprised if a few months into the season we're talking about how the Indians' starters are "overachieving," when in reality they're getting helped by a defense with three center fielders.
Minnesota Twins
Rotation: Vance Worley, Kevin Correia, Mike Pelfrey, Liam Hendriks, Scott Diamond (if healthy) -- Brian Duensing and Cole De Vries also options
The only team in the AL with a worse starter ERA last season than the Twins was the Indians. There have been changes to the staff, but it's debateable if there's any improvement. I like Worley, but his transition to the AL won't be kind, especially since he's been thrust into the role of staff ace, for which he's ill-suited. Acquisitions Correia and Pelfrey are mediocre and unexciting while Hendriks and Diamond have limited upside.
Hand they've been dealt:

Close to a straight, but close doesn't cut it. It's a nine-high hand that won't win many times, unless you can bluff inferior players out. Unfortunately, the real-life Twins don't really have that option.
For more baseball news, rumors and analysis, follow @EyeOnBaseball on Twitter, subscribe to the RSS feed and "like" us on Facebook. Also, individually interact with us on Twitter: @MattSnyder27, @daynperry and @mikeaxisa.

The Angels' Ohtani faced Milwaukee in Cactus League action on Saturday

New Mexico broke the school and WAC single-game run record with a 39-0 victory over Mississippi...

It's the first Saturday slate of spring training games, and Ohtani will be taking the mound...
The Tigers are very early in their rebuild and they're counting on Miguel Cabrera to rebound...

The Grapefruit League and Cactus League seasons started on Friday

Data will be collected and then used to determine whether humidors are necessary in 2019