Rotation poker hands: AL West
Opening day is two weeks away, and most starting rotations have begun to round into shape. So we'll take six days this week to rank the rotations in each division -- complete with poker hands.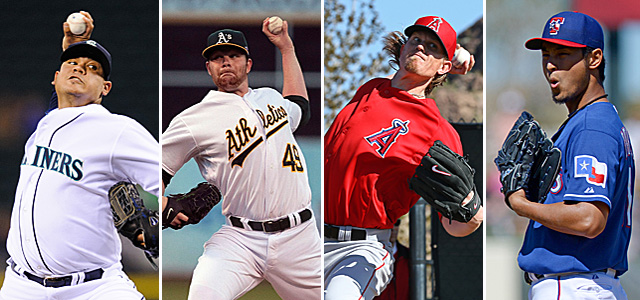 With just two weeks until opening day (woo hoo!), most starting rotations have begun to round into shape. So we'll take six days this week to rank the rotations in each division. As if giving you the chance to kick and scream about the rankings wasn't enough fun, we're going to add in a wrinkle. Each team will be assigned a poker hand.
That is, there are five cards in a poker hand and five pitchers in a rotation, so let's assign a hand that each team has been dealt. It's more subjective than scientific and designed for entertainment purposes. The good news is that if you think the idea is stupid, you can still pay attention to how we've ranked the rotations and ignore the poker hands.
Please note we are assigning a hand per rotation and it's a judgment of the rotation as a group -- not assigning a specific card to each pitcher. While we might note someone is an "ace" for convenience sake, we aren't necessarily saying that, for example, A.J. Griffin is a four of spades.
Let's dive in.
Oakland Athletics
Rotation: Brett Anderson, Jarrod Parker, Tommy Milone, A.J. Griffin, Bartolo Colon (Dan Straily also possible)
The A's had a sneaky-good rotation last season, ranking third in the American League in starting pitcher ERA and riding that staff to an AL West championship. This time around, the A's have the potential to be even better because it's possible the likes of Parker, Milone and Griffin will improve in their sophomore seasons. Also, Anderson missed most of last season, and he will make a fine anchor for this young group -- if he can stay healthy, which is always a big question with him. There's always the chance the youngsters will regress a bit as adjustments are made, but overall the potential is big.
Hand they've been dealt

Three of a kind is pretty good, especially with 10s. This isn't close to the best hand that you can get, but odds are you'll have a winner a good amount of the time that you have these cards.
Texas Rangers
Rotation: Yu Darvish, Matt Harrison, Derek Holland, Alexi Ogando, Derek Lowe
The Rangers had a mediocre rotation last season, but Darvish will take a big step forward during his second year in America. Once his adjustment to a new country was finally complete, the 6-foot-5 righthander went 5-1 with a 2.35 ERA and 67 strikeouts in his last eight starts (57 1/3 innings). Expect Holland to work his ERA back to around 4.00 again, too, a major improvement on his 4.67 mark last season. Also, Ogando has proven a quality starter in his career, going 13-8 with a 3.49 ERA and 1.12 WHIP. And don't forget that Colby Lewis will probably return from Tommy John surgery midseason to knock out Lowe (or whoever else might occupy that five slot).
Hand they've been dealt

It's three of a kind, albeit not as good as Oakland's hand. Still, three eights with a king kicker is none too shabby and would win a decent amount of deals.
Los Angeles Angels
Rotation: Jered Weaver, C.J. Wilson, Tommy Hanson, Jason Vargas, Joe Blanton
The Angels managed to have a good rotation last season, despite mediocrity from Wilson, a down year from Dan Haren and a horrible season from Ervin Santana. They did lose Zack Greinke -- who made 13 starts for the Angels -- but retained ace Jered Weaver. Wilson needs to improve and Hanson needs to stay healthy, in which case they make for a good 2-3 combo. Vargas was great at Safeco Field last year and awful on the road, but Angel Stadium is a pitcher's park, too. In his career, Vargas is 3-1 with a 2.27 ERA in 43 2/3 innings in his new home stadium. And Blanton can eat 190 not-good-but-not-terrible innings as the five.
Hand they've been dealt

Two pair with an ace kicker. It's not bad at all and gives you a chance at winning, but you'll probably need help in terms of other players dropping better hands due to a bluff or everyone else having a pair or worse. In baseball terms for the Angels, the help will be the offense.
Seattle Mariners
Rotation: Felix Hernandez, Joe Saunders, Hisashi Iwakuma, Erasmo Ramirez, Blake Beavan
We know all about the ace at the front here. He's elite. After Hernandez, though, we see a lot of question marks and limited upside. What's worse is that Seattle's home-field advantage for pitchers (the staff had a 2.97 home ERA and 4.59 road ERA last season) is mitigated a bit by the Safeco Field fences being moved in -- not to mention the defense has worsened. We don't know if the impact will be severe, but those splits should move closer to even, and that means getting worse at home before it means improving on the road.
Hand they've been dealt

Well, there's the ace of spades. The best card in the deck. That's King Felix for you. As for the rest of the hand, we can't make much of it. While it might not be awful, the upside is limited. It's possible in a few years that King Felix will get some company from the likes of Danny Hultzen, James Paxton and Taijuan Walker, maybe even getting them up into flush or full house range (or more?). For now, it's Felix and a bunch of stray cards.
5. Houston Astros
Rotation: Bud Norris, Lucas Harrell, Jordan Lyles, Phil Humber, Erik Bedard
Norris was 7-13 with a 4.65 ERA and 1.37 WHIP last season, and he sits atop the rotation. Harrell (11-11, 3.76) actually wasn't bad, but Lyles (5-12, 5.09) was. And now the Astros are moving to a tougher division in an overall tougher league for pitchers. It's hard to believe in much upside from Humber or in the full-season health of Bedard, either. Ugly is the word.
Hand they've been dealt

It can only get better from here. That's unsuited and one card away from a low straight. But, essentially, it's nothing. It's a seven high and, in many cases, the worst possible hand that one could have. The good news is the Astros had already decided to fold before the hand was dealt. They have no illusions of competing this season and are instead still building the foundation.
For more baseball news, rumors and analysis, follow @EyeOnBaseball on Twitter, subscribe to the RSS feed and "like" us on Facebook. Also, individually interact with us on Twitter: @MattSnyder27, @daynperry and @mikeaxisa.

The Dodgers and Braves pulled off a whopper on Saturday

Sabathia will reportedly spend a 10th season in the Bronx

Fowler suffered a knee injury at Chicago's Guaranteed Rate Field
The lefty starter is coming off a terrible season

After acquiring Ian Kinsler and Zack Cozart in recent days, the Angels are trending upward

Cozart's coming off a big season as the Reds' shortstop