Roy Halladay goes out of his way to apologize to Phillies fans
Roy Halladay needs shoulder surgery and will miss a large chunk of the 2013 season. And he wants to apologize to the fans for that.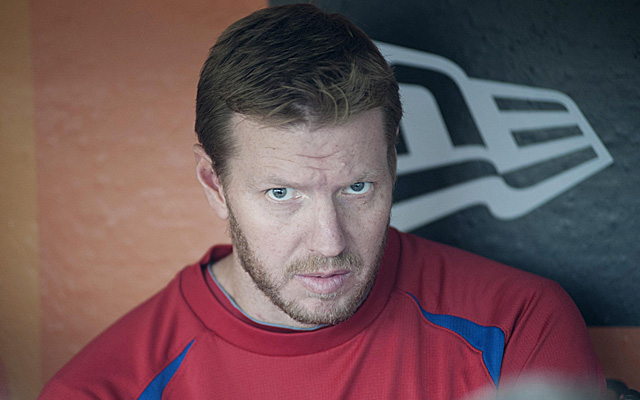 More MLB: Scoreboard | Standings | Probable Pitchers | Sortable Stats | Odds
Phillies starting pitcher Roy Halladay is going to have surgery to clean up bone spurs, a frayed labrum and a partially torn rotator cuff in his pitching shoulder, we all learned Wednesday. Halladay first felt the discomfort in his shoulder April 24, but didn't tell the Phillies until this past weekend.
And for that, Halladay decided he needed to apologize. In fact, he sought out reporters Friday before the Phillies game against the Diamondbacks to make sure his message got through to as many fans as possible.
Here are some of Halladay's comments, thanks to Jim Salisbury of CSNPhilly.com:
"I've been thinking the last couple of days. I just felt like I should address the fans.

"I know there is a lot of mixed opinions on pitching, not pitching, all that kind of stuff. I know there are people who are disappointed about how I pitched the last two years. I know there are a lot of people who are very supportive. So, one, I just wanted to thank them for their support. And my heart goes out to all of the people who spend all of their money and go out to the games and don't get to see what they want to see.

"I know I'm not the whole team. There are still a lot of guys out there and it's a fun team to watch. But I feel bad that I'm missing the time that I am. I feel bad for the fans that I'm missing the time. It's tough. You feel an obligation to the organization, to your teammates, to the fans to try to go out and pitch. Especially on a competitive team that sells out. For me, that was a big factor. If I'm playing for a last-place team and there's things going on, you maybe speak up. But we have a chance to go win a World Series and we have sellouts and fans have expectations. You want to do everything you can to try to make it work. Really, that was a lot of the reason I tried to keep going. Like I said, I never really felt the pain.

"I just wanted to reach out to the fans, thank them for their support and apologize to the ones who pay the money and show up in the second inning and it's 9-0. I apologize to the fans that I won't be out there for three months. I don't feel like I have to apologize to the team because I think they know. I just want the fans to know that I'm thinking about them. I don't take that for granted. I don't take playing for Philadelphia for granted."
There's more, so head on over to CSNPhilly.com for the full-text if you wish to read it all, but what's above pretty well represents the sentiment.
That, my friends, is pure class. Halladay didn't have to say anything. He could have gone with the old "injuries happen" line and left it at that. Instead, he comes across as someone who genuinely respects and cares for the fans.
Hopefully, we get to see the Halladay of old at some point in the future. If not, we'll need to remember things like this as an illustration that he was a class act in addition to a stud pitcher.
MLB can unilaterally implement rule changes, which will also include limits on mound visit...

If the MLBPA wants to fix MLB's economic system, it should push for more money for young p...

Fans aren't happy Gerrit Cole and Andrew McCutchen have been traded away
Acuna is arguably the best prospect in baseball

Kent had a good career, particularly with the bat

This would undoubtedly be the worst trade in Miami Marlins history