Roy Halladay will have surgery to 'clean up' pitching shoulder
Phillies right-hander Roy Halladay will have surgery to 'clean up' his shoulder, specifically his labrum and rotator cuff.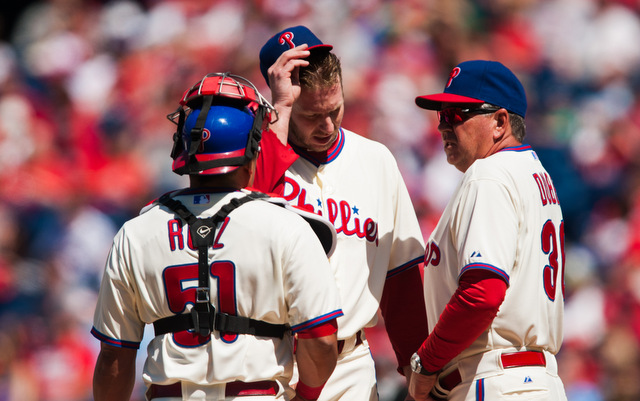 More MLB: Scoreboard | Standings | Probable Pitchers | Sortable Stats | Odds
Phillies right-hander Roy Halladay will have surgery to "clean up" bone spurs, a frayed labrum and a partially torn rotator cuff in his shoulder, he announced at a press conference Wednesday. He might be able to pitch again this season, but there is no timetable for his return.
RELATED -- The decline of Roy Halladay
"[Doctors said the surgery] could turn the clock back two or three years for me," said Halladay. "I feel like it's a lot better than some things I anticipated ... I don't feel as lost as before. I feel like there are some answers there."
Halladay, 35, will have the surgery "as soon as possible." He cautioned they will be smart about the entire process and take whatever pre- and post-surgery steps are necessary without rushing back to the field.
"I couldn't understand why my location was so poor. So I really didn't know what to think," added Halladay, who has pitched to an 8.65 ERA and 1.46 WHIP in seven starts this season. He allowed nine runs in 2 1/3 innings to the Marlins on Sunday.
The Phillies placed Halladay on the 15-day DL earlier this week. He visited Dr. Lewis Yocum in Los Angeles on Tuesday after feeling shoulder discomfort, which he first experienced following his April 24 start against the Pirates. Halladay didn't say anything to the team until this past weekend.
A shoulder strain sent Halladay to the DL for close to two months last season, after which he pitched to a 4.93 ERA in 14 starts. He missed most of the 2004 season with another strain and inflammation. Halladay has not had any other arm injuries during his big league career.
A two-time Cy Young Award winner and eight-time All-Star, Halladay went 40-16 with a 2.40 ERA during his first two years in Philadelphia. He's gone 13-12 with a 5.24 ERA in one season and one month since.
Halladay's career record is 201-104 with a 3.37 ERA, and from 2002-11 he went 170-75 with a 2.97 ERA. He threw at least 220 innings every year from 2006-11. At worst he's a borderline Hall of Famer; at best he's a first-ballot lock.
Halladay is in the final guaranteed year of his contract and will earn $20 million, though he won't throw enough innings to vest his $20 million option for 2014. He will be a very fascinating free agent this coming offseason if he's unable to make it back to the mound this year.
Right-hander Tyler Cloyd will be recalled from Triple-A and start in Halladay's place on Friday.