Royal reality: They need to make playoffs for chance to keep Shields
Kansas City needs to have a good season financially to get into the stratosphere it would take to re-sign ace James Shields.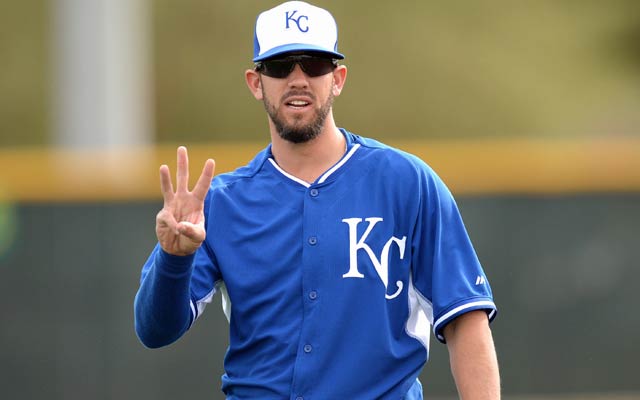 More MLB: Spring training | Free agency tracker | Latest news & notes
The Royals aren't going to extend a contract offer to star pitcher James Shields before he reaches free agency this winter, but that doesn't mean they've given up all hope of re-signing their ace.
There's still an outside chance the Royals could keep Shields long-term, but it is very likely dependent on one very specific thing: Kansas City needs to make the playoffs first.
Royals ownership has given their baseball people the go-ahead in recent years to sign several fine players, such as Alex Gordon, Billy Butler, Joakim Soria, Salvador Perez and Alcides Escobar. But an ace pitcher is in another stratosphere financially. To get the go-ahead to make such an expenditure, the Royals need to make money first.
The Royals love Shields but realistically don't believe they have a chance to make a competitive offer unless they improve their own financial standing first. Royals insiders believe they could lose money this year considering unusual winter expenditures, but they also might wind up in the black by making the postseason.
The Royals took a nice step forward last year, going 86-76 and posting their first winning record in a decade. They look like they have a very solid team again, but given their history, making the playoffs is far from a certainty for them. In fact, if they were to make the playoffs, they'd break a 28-year streak. Their last postseason experience came in 1985, when they won the World Series.
There have been no contract talks to date with Shields, who went 13-9 with a 3.15 ERA in his first year in Kansas City. The team has explained the reasons to him, and he is said to be understanding. As someone who came up with the Tampa Bay Rays, friends say Shields well understands the hazards of small markets.
The Royals took some hits for giving up top hitting prospect Wil Myers for Shields, but they are quite pleased with his impact, and should be. Top decision-makers, including general manager Dayton Moore, came up with the Braves and believe in the value of establishing a tradition of winning, especially at a time when their best young players are starting to emerge as stars, including Eric Hosmer and Perez.
Whatever happens with Shields, to Royals people, he's been worth the gamble, as he's helped put Kansas City on the right track, and gives the team real hope again this year. Shields is also an innings eater; he led the AL with 228 2/3 innings last year and has averaged 224 since 2007.
Shields, 32, is known most for being durable and competitive, so it wouldn't shock Royals people if he considered New York or Los Angeles as a free agent. Shields is from Newhall, Calif., in the LA area, and recently set up residence in the San Diego region, but geography isn't considered the over-riding factor in his decision.
Shields, who will make $13.5 million this year, is said to have had a very good experience thus far in Kansas City, where he's been treated very well. So he will be happy to give it a chance -- but ultimately, the team's fortunes will likely determine if they have any shot at all. 
Fans aren't happy Gerrit Cole and Andrew McCutchen have been traded away

Acuna is arguably the best prospect in baseball

Kent had a good career, particularly with the bat
This would undoubtedly be the worst trade in Miami Marlins history

The Pirates recently shipped Gerrit Cole and Andrew McCutchen to Houston and San Francisco,...

Surely, Martinez and his agent are holding out for more