Royals agree to five-year deal with Ian Kennedy: Four things to know
The Royals added a solid starter to their rotation on Saturday. Kennedy's deal will cover five years. Here are four things to know about the signing.
by

Eye on Baseball staff

• 4 min read
According to a report by MLB Network Insider Jon Heyman, the Royals have agreed to a five-year deal with free-agent starter Ian Kennedy. Multiple outlets have also confirmed the deal, but the team is yet to announce the signing.
The contract is reportedly worth $70 million. Ken Rosenthal of FOX Sports reports the deal includes an opt-out clause after two seasons. Kennedy rejected a qualifying offer from the Padres earlier this offseason, so Kansas City will forfeit their first round pick (24th overall).
Kennedy, 31, was 9-15 with a 4.28 ERA for the Padres last season. He struck out 174 batters over 168 1/3 innings with a 1.30 WHIP, but also allowed 31 homers in pitcher-friendly Petco Park. He made 30 starts for the sixth consecutive season.
Kennedy will join Yordano Ventura and Edinson Volquez in the Royals rotation. Danny Duffy, Chris Young and Kris Medlen are candidates for the final two spots. The club has also added veterans Dillon Gee, John Lannan, Chien-Ming Wang and David Huff on minor-league contracts for depth.
So far this offseason, the Royals signed Kennedy and Joakim Soria, re-signed Alex Gordon, and acquired Tony Cruz. They're expected to install Jarrod Dyson as their everyday right fielder and let Alex Rios leave as a free agent.
The Royals went 95-67 in 2015 and, of course, they won the World Series. Kennedy was the 29th overall free agent on our top-50 power rankings this winter. Here are four things to know about the signing.
1. Kennedy's contract is way over projections.
According to the crowdsourcing results at FanGraphs, Kennedy was projected to received a three-year contract worth $36 million this offseason. Historically, the crowdsourcing results provide a good ballpark number, but aren't accurate to the last dollar.
Kennedy's deal is way out of the line with the projections. It's double the total guaranteed money, basically. Does that mean it's a bad deal? Not necessarily. Baseball teams are a lot smarter than fans. But it does show Kennedy was not at all expected to receive a contract of this size. This is a shocker, no doubt about it.
2. The opt-out clause lines up with Kansas City's window.
The Royals are undeniably a contender right now (despite what the projections say), though it's tough to not look ahead a few years and realize this group won't be together forever. Here's a list of core Royals set to become free agents after the 2017 season:
Eric Hosmer
Mike Moustakas
Wade Davis
Alcides Escobar
Lorenzo Cain
Danny Duffy
The club would have to push their payroll north of $200 million to re-sign everyone, and that seems really unlikely. This group already has two AL pennants and one World Series title together, and they'll have a chance to win more the next two years. After that though, some very tough decisions will have to be made.
Kennedy can opt out of his contract following the 2017 season, which lines up perfectly with what can be considered the team's window of contention. If he pitches well the next two years, Kennedy will help the club contend, then opt out and become a free agent at the same time as everyone else. The opt-out matches up well with the club's current situation.
3. Kennedy will love the Royals outfield defense.
Kennedy has been an extreme fly ball pitcher throughout his big league career. Since reaching the show for good in 2010, he has a tiny 38.2 percent ground ball rate, 15th lowest among the 114 pitchers to throw at least 600 innings during that time. Last year, he had a 38.5 percent ground ball rate.
In 2015, Kennedy was stuck pitching in front of one of MLB's worst outfield defenses. Justin Upton and Matt Kemp are major liabilities in the corner outfield spots, which is why the Padres had the third worst outfield UZR (-23.6) and fifth worst outfield DRS (-18) in baseball. Petco Park is spacious, so it helps limit homers, but that also means lots of grass for hits to fall in.
The Royals, on the other hand, had the second best UZR (+35.6) and third best DRS (+32) among outfields last year. And they've improved defensively this offseason by swapping out Alex Rios for Jarrod Dyson. Simply put, Kennedy will be going from playing with one of the game's very worst outfield defenses to one of the very best.
4. Kennedy is reuniting with his former pitching coach.
It's unclear how much of a factor this was for Kennedy when deciding to sign with the Royals, but he will be reuniting with former pitching Dave Eiland. The two were together in Triple-A in 2007 and in MLB from 2008-09, when they were with the Yankees.
Obviously that was a long time ago, and Kennedy now is a much different pitcher than he was back then by virtue of all the experience he's gained. But Kennedy and Eiland have a relationship already, and that can only help. If nothing else, he'll be a little more comfortable joining a new team in a new city.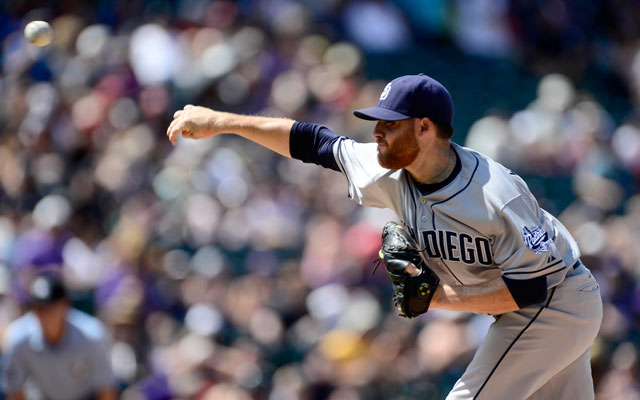 Cubs manager Maddon becomes the first manager ever ejected twice in one postseason series

Closer Wade Davis pitched two innings in Game 4 to help force a Game 5

Also, how much did the Cubs increase their chances?
Los Angeles will have another chance to close the series out on the road

They're alive in the NLCS after their Game 4 win over the Dodgers

You never know what you might get from Arrieta, but what we got was brilliance in Game 4