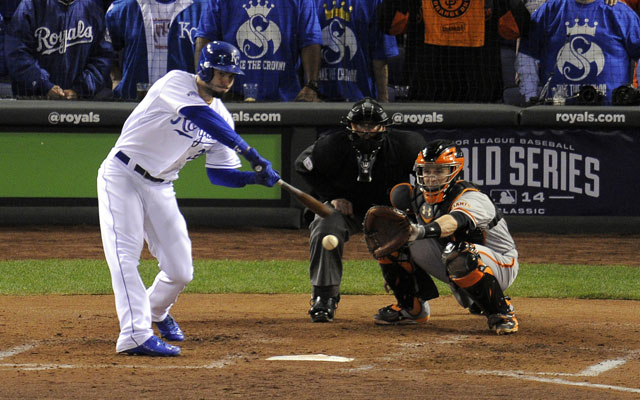 KANSAS CITY, Mo. -- The Royals' bats ritually abused Giants' pitching in Game 6 of the World Series (box score), and now we'll have a Game 7. First, though, let's break down Tuesday night's action ... 
How's about a pretty cool pre-game moment?
Umpire Ted Barrett presents Bob Motley, the only living Negro Leagues umpire, with a game uniform (via @JoeTorre) pic.twitter.com/zyGtBytQ4Y

— MLB Public Relations (@MLB_PR) October 28, 2014
Onward!
Hero: The Royals' offense. They pounded out 10 runs on 15 hits against the Giants in Game 6, which certainly qualifies as an outburst. Mike Moustakas hit the first home run of the series since Game 2, and that 396-foot shot in the seventh inning was also his franchise-record fifth homer of the postseason. The Royals also tallied six doubles on the night, which is ... a lot. That's in character, as during the regular season they ranked fourth in the AL in two-baggers. 
More to the point: They scored a lot of runs early and took the pressure off starter Yordano Ventura. 
Speaking of whom, co-hero honors go to "Kicky" Ventura ... 
He worked seven shutout innings against a Giants offense that's one of baseball's best on the road. 
Goat: Jake Peavy. The affable veteran just didn't have it in Game 6. He lasted just 1 1/3 innings and gave up five runs, all earned, on six hits. Despite recording just four outs, Peavy threw 41 pitches. Regarding those grim numbers, there's this ... 
That's the shortest start in the World Series since David Wells, Gm 5, 2003 (back injury). Last w/o an injury: Russ Ortiz, Gm 2, 2002.

— Tyler Kepner (@TylerKepner) October 29, 2014
In his regular season career, Peavy has just twice failed to make it at least 2.0 innings in start. The last time was in July of 2010. Suffice it to say, the right-hander picked an inopportune time for such a bad outing. 
And speaking of San Fran pitching miseries ... 
That HR by Moose marked a new record. Strickland, most HR allowed by a reliever in a post season (6). #Giants #Royals

— gabe kapler (@gabekapler) October 29, 2014
Turning point: The second inning. The Royals hung seven runs on Peavy and shutdown reliever Yusmeiro Petit, and that, for all intents and purposes, sealed the game for the Royals. Here'a a look at the win probability chart ... 

Source: FanGraphs
Never really in doubt after that big, early outburst by the Royals. 
Consolation for Giants fans: Um ... Steve Perry was there?
Perry!! pic.twitter.com/5ha5n1ZykW

— Tim Stout (@Soonereyedoc) October 29, 2014
Next: Game 7. Game. Seven. It commences on Wednesday night at 8 p.m. EST. Tim Hudson opposes Jeremy Guthrie. 
Of course, it's Game 7, so we know who's really pitching ... 
My favorite pitcher is lined up to go for both teams tomorrow night. That'd be Johnny Wholestaff.

— The Brewer Nation (@BrewerNation) October 29, 2014
It's going to fun, baseball enthusiasts.