Royals make Beltran push; Yankees, Red Sox holding at two years
Carlos Beltran is said to like Kansas City, Texas and New York, but Yanks seem less likely now.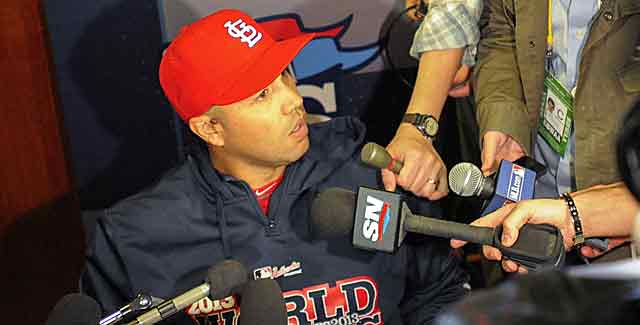 With the Red Sox appearing unwilling to go past two years for Carlos Beltran and the Yankees appearing to be focused elsewhere at the moment, the Royals and others could be in prime position to land star outfielder Carlos Beltran.
The Yankees have been painted as a Beltran favorite in some places, but one person involved in those talks on Wednesday characterized the Yankees' chances as "iffy" to win Beltran after adding Jacoby Ellsbury for $153 million, especially considering their interest in improving their decimated rotation while keeping a door open for their own free-agent star Robinson Cano.
There's no evidence the Yankees or the Red Sox, who succeeded to the point of a World Series championship with shorter deals, will come off two years, according to sources. That is a year or two shy of Beltran's desired contract length following his string of three big and healthy seasons.
While the Royals haven't made an official "offer," they are said willing to go three years for Beltran, who came up with Kansas City and is said by people close to him to have the Royals, along with Yankees and Rangers, very high on his list of desired locales.
It was reported here a couple weeks ago that the Royals are a real threat. The New York Post first reported on Beltran's visit to Kansas City on Tuesday.
It's a new regime in Kansas City from Beltran's days there. But it's made up of former Braves people who guided Beltran friend Rafael Furcal's rise in Atlanta.
Should Kansas City strike a deal for Beltran, they'd likely look to trade longtime DH Billy Butler, who has $20 million and two years left on his contract. Several teams already have inquired.
The Mariners are said to be involved, and while there's been speculation they are willing to meet Beltran's asking price, people close to Beltran suggest they can't envision Beltran choosing to go to Seattle, which isn't exaclty close to Beltran's native Puerto Rico or (until further notice) especially close to the top of the standings.
The Tigers and Reds also are said to have shown interest in Beltran, but both those teams, as well as the Rangers for that matter, are also strongly in in Shin-Soo Choo. A Rangers contingent visited with Choo on Tuesday in Southern California, as Evan Grant of the Dallas Morning News reported.
Boston wants to add two big bats to their lineup, not just one

Even more relievers signed on the final day of the Winter Meetings

Keep tabs on the top 50 free agents right here
The league is not happy Ohtani's medical information leaked

Kansas City and Baltimore were quite busy at the Rule 5 Draft

Piscotty's mother was diagnosed with ALS earlier this year