Royals quicker with Dyson atop lineup -- now, will he stick?
Without making it official, the Royals appear to be opening an opportunity for fleet outfielder Jarrod Dyson. While Jeff Francoeur slumps and was given Monday night off, Dyson was Kansas City's leadoff man for a second consecutive day.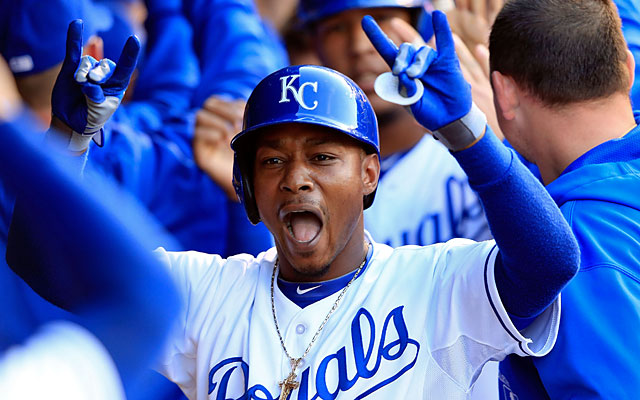 ANAHEIM, Calif. -- As they speed toward what they hope are better times, the Kansas City Royals' lineup is getting quicker.
For a second consecutive game, manager Ned Yost employed fleet center fielder Jarrod Dyson as the leadoff hitter.
The move left slumping Jeff Francoeur (.229/.266/.322) on the bench for Monday's series opener here against the Angels.
"Francouer has got one of the best throwing arms in all of baseball," Yost said. "As we've seen over the past two years and a month and a half this year, he's bailed us out of a lot of jams with his throwing arm."
But he's not giving a Royals pitching staff, whose 3.47 ERA ranks fourth in the American League, much breathing room with his bat. And, being that the Royals rank last in the AL with 25 homers, Yost needs to find runs other ways.
Enter Dyson, who is fast even for a speedster and was successful in 30 of 35 stolen-base attempts in 102 games for the Royals last season. Plus, as Yost noted, with Dyson in center field and the fleet Lorenzo Cain in right -- as the Royals deployed them Monday night -- their range helps make up for the loss of Francoeur's arm.
Clearly, there is opportunity here for Dyson, 29, who entered the season as a fourth outfielder. He entered Monday night's game hitting .258 with just a .258 on-base percentage, but that is part of the reason why Yost wanted to see more after he went 1 for 4 in Sunday's 4-2 loss to the Yankees.
"We need to play guys," Yost said, "and players best get their rhythm, best get their timing, if they play consecutive days."
Yost stopped short of calling it a full-blown audition for Dyson. And he did not say that Francoeur will devolve into a platoon situation.
But Sunday was the first time that Dyson hit leadoff for the Royals since last Oct. 3, in Detroit. He did bat there 39 times last year but had hit eighth or ninth in his six previous starts this season before Sunday's.
No question, Dyson, whom Kansas City picked in the 50th round of the 2006 draft, is the Royals' most prototypical leadoff hitter.
Now, if he can ignite the offense, this could get very interesting.
"What I like best is the improvements he's making to his game," Yost said. "Doug Melvin, when I was in Milwaukee, always had a theory that speed develops late. And the reason for it is that speed guys have a tool that very few other players have. So young speed guys, generally, try to play the game the way everybody else plays the game.
"But it's a different skill set. You have to be able to put the ball on the ground. You have to be able to take your walks. You have to be able to slap the ball the other way. Dyson has probably more power than most speed guys that I've seen, and he's got more speed than most speed guys I've seen. It's a unique set of skills that he has. And trying to figure out how all of that works in terms of me being productive is a process for him.
"So where he was two years ago or even last year to where he is now, he's definitely making improvements. He's definitely starting to understand that people come to the ballpark to see me get on base, not to see me fly out to left field. But, again, it's a development process."
Mark Appel was one of the players being moved about on Monday night

Garrett Cooper is the answer to a trivia question

We still don't know if Ohtani will be jumping to the majors yet
Kinsler is a free agent next winter

Opening Day will be Thursday, March 29 -- the earliest opening day in MLB history

The World Series champion and big-time wrestling fan was on hand Sunday night