Royals set to call up Brandon Finnegan, 2014 draftee
The first player from the 2014 MLB draft to make the majors will be Royals reliever Brandon Finnegan.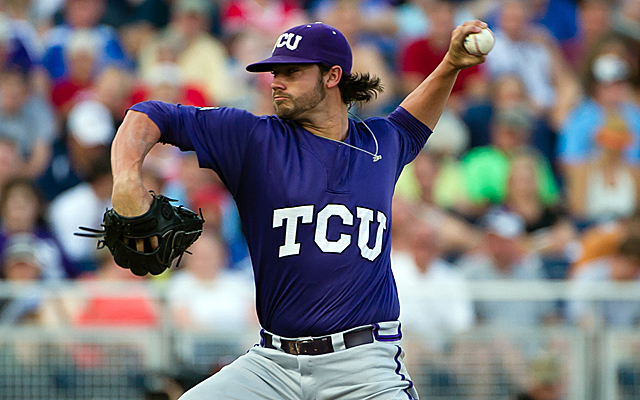 The first player from the 2014 MLB draft to join a Major League Baseball team will be left-handed pitcher Brandon Finnegan, as the Royals have announced that he'll join the team when rosters expand Monday.
Finnegan, 21, was Kansas City's first-round selection in the June draft, being taken 17th overall.
Since then, Finnegan made five starts for High-A Wilmington and followed that up with eight relief appearances for Double-A Northwest Arkansas. In all, Finnegan has a 1.33 ERA, 0.89 WHIP and 26 strikeouts against only four walks in 27 innings.
Here was our draft capsule for Finnegan back in June:
Finnegan's fastball sits in the low-to-mid-90s and now -- thanks to an assist from Team USA teammate and third overall pick Carlos Rodon -- rocks an impressive slider. He also mixes in a change. Due to his size (5-foot-11, 184 pounds), there have been some durability concerns. (He did miss a few starts with shoulder trouble this spring.) Still, some scouts see him as a No. 2 starter in the majors eventually, and with pitching at such a premium these days, that's pretty attractive.
Expect the Royals to use him out of the bullpen this September as they look to make the playoffs for the first time since 1985.
L.A. manager Dave Roberts indicated that Puig's benching was related to more than one inci...

Manager Torey Lovullo said so on Monday
Let's see how SportsLine forecasts the race for MLB's 10 playoff spots

Monday kicks off the final week of MLB action. Let's take a look at everything that went d...

No other rookie in baseball history has hit more home runs than Judge has this year