Royals to make run at Shields as free agent; playoff run helps
Kansas City informed James Shields a few months ago through his agent they would try to re-sign him, and their playoff performance only aids their chances.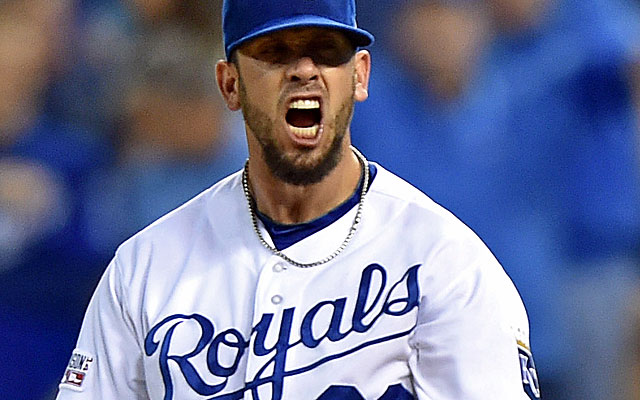 KANSAS CITY, Mo. -- The Royals, presumed to be a long shot to bring back ace James Shields, have decided they will indeed make a run at re-signing him, people familiar with the situation say.
The Royals were originally believed to have a shot to keep Shields only if they went far in the playoffs, and sources say the team has decided by now, after reaching the ALCS, that they will make that effort. The Royals told Shields' agent, Page Odle, around the time of the trade deadline that they'd be back in touch after the season, which was a hopeful sign. And now with their amazing postseason run, which will bolster their revenues big-time -- they have decided they will indeed try to keep him with a new multi-year deal.
The playoff success only enhances their chances -- though obviously it may still be hard for the Royals to compete with the Red Sox, Dodgers and other possible big-market suitors for the star pitcher's services.
Shields, 32, is seen as slotting in just below younger aces Jon Lester and Max Scherzer in a an exceptionally good starting pitching market this winter, which will still seem pricey for the small-market, historically small-spending Royals. Shields, 32, doesn't have quite the glitzy credentials of Lester or Scherzer (Scherzer has a Cy Young award, and Lester two World Series rings), but in terms of consistency of durability, no one in baseball matches him. Shields is the only pitcher in the American League to post at least 200 innings the last eight seasons (Mark Buehrle also did it in MLB), and at least 225 the last four.
While the Royals love Shields, they have always had pretty severe payroll limitations. Though they made a run at bringing back Carlos Beltran last winter with an offer believed to be fairly close to the $45 million, three-year deal he signed with the Yankees, they generally do not play for the biggest stars in free agency. It's fair that the Red Sox, who may like the idea Shields will command fewer years than Lester and Scherzer, are a logical fit. The Dodgers, Shields' hometown team (he's from Newhall, Calif.) will presumably be another team seeking at least one starting pitcher, as will the Rangers and many other well-heeled franchises.
One competing AL GM suggested he believes Shields should match the deals of Anibal Sanchez and C.J. Wilson, who received $80 million and $77.5 million, respectively, on five-year free-agent deals in recent seasons. That may be a bit of wishful management thinking, as Shields, a clear ace, could easily be a $20-million-a-year pitcher. Shields is already the highest paid Royal at $13 million, but has been a bargain for the team, making $22 million over his two-year stay. They do intend to make him the qualifying offer, which will be $15.3 million according to the Associated Press, though there's no chance a player of his stature would have to accept it.
Royals GM Dayton Moore, who pulled off the excellent Shields trade in the first place, has been a consistent supporter of Shields, who was 14-8 with a 3.21 ERA this year and won the clinching Game 3 over the Angels in the ALDS, but declined to discuss winter plans.
Moore received quite a bit of criticism for the trade that sent top young outfield prospect Wil Myers plus pitching prospect Jake Odorizzi for Shields and righthanded pitcher Wade Davis, even getting hit some more early this season -- though the critics have been muffled since Shields helped the Royals into the playoffs for the first time since 1985, and Davis became one of the game's best relievers while Myers got hurt and struggled.
Some baseball experts always seem to prefer prospects, but Moore understood that the Royals had a solid nucleus and only needed an ace to have a chance to make a splash. He also knew that it was important they break their 29-year drought.
At the time, the Royals' only chance to add an ace was via trade, as they didn't have the type of money sign anyone of that ilk on the free agent market. While Shields could be out of the Royals' price range, they should have more money than usual, and there's obviously more baseball buzz in K.C., thanks to their big playoff performance thus far (they are 4-0 in the postseason after qualifying as an AL wild card).
Two winters ago, Moore targeted either Shields or Lester, who was coming off a down year, but Boston wisely decided to hold onto Lester, who helped pitch them to a World Series title last year. Tampa Bay, meanwhile, insisted on a top young positional talent. If it wasn't going to be Myers, it would likely have had to be either first baseman Eric Hosmer or catcher Salvador Perez.
The Royals liked Myers, but didn't see him as another Mike Trout or close to that. They also didn't want to affect the major-league team they were already fielding.
"It was probably going to take one of our top young position players, and Wil had yet to play in the big leagues," Moore said. "We felt he would be a very good every day player. And they were steadfast in making sure Wil was part of the deal. We were going to do our best stay away from players who were on our major league team. The plan from day one was to do everything we could to support that core group to help us win."
One other reason the Royals preferred to trade Myers to say, Hosmer or Perez, is that Hosmer and Perez are plus defenders. In big Kauffman Stadium, Moore has emphasized defense, which has been a major plus for the team that is now in the ALCS against the Orioles that will start Friday night at Baltimore.
The lefty starter is coming off a terrible season

After acquiring Ian Kinsler and Zack Cozart in recent days, the Angels are trending upward

Cozart's coming off a big season as the Reds' shortstop
The veteran slugger spent the last eight seasons with Cleveland

The Padres may be poised for an active winter

Yes, Bryce Harper is going to make a lot of money next winter