Ruben Amaro: 'I view Chase Utley as a Phillie for life'
The Phillies would find a market for Chase Utley and Michael Young, if they want one. But GM Ruben Amaro says trading Utley would be tough.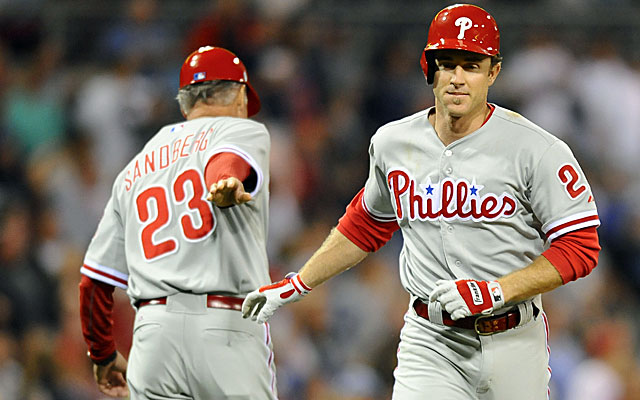 LOS ANGELES -- Everyone wants to know if the Phillies will trade Cliff Lee or Jonathan Papelbon.
It probably makes more sense to ask if they'll deal Chase Utley or Michael Young, assuming they become trade-deadline sellers at all.
Lee and Papelbon are signed past this year, which doesn't mean they won't be dealt but does make the question of whether to trade them a lot more complicated. Utley and Young both have contracts that expire at the end of the season, and on a trade market that isn't heavy on position players, the Phillies would find a market for either one.
If they want to, that is, and if the players are willing to go. Young has full no-trade protection, as a result of negotiations when he was traded from the Rangers to the Phillies last December. Utley can block trades to 21 teams.
There's another issue with Utley.
"He's been an iconic player for us," general manager Ruben Amaro said Friday. "My intention would be to keep him in our uniform for the rest of his career, if possible.
"I kind of view Chase as a Phillie for life. That's my hope."
Leaving the Phillies might be a tough decision for Utley, too, if the decision ever gets to him. People around the team think it's more likely that Young would accept a deal, but he said he hasn't yet considered the possibility.
"My priority is to win as many games as I can for the Phillies," Young said. "I'm a Phillie, and I want to win games for the Phillies."
The Yankees have been mentioned as a possibility for both Utley and Young. Some people in baseball also believe that the Royals could try to make a play for Utley.