Ruiz apologizes, and Manuel says 'I trust him'
Carlos Ruiz apologized Wednesday for using amphetamines, a mistake that got him suspended for the first 25 games of this season. Ruiz also had an emotional meeting with his manager, and Charlie Manuel said that he believes Ruiz won't "ever do it again."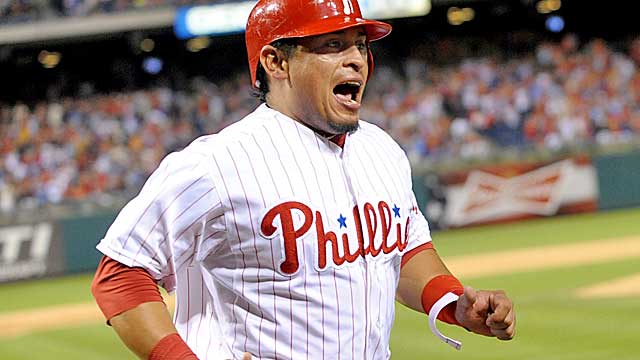 Ruiz admits he took Adderall, which is banned by MLB unless a player has a prescription. (US Presswire)
CLEARWATER, Fla. -- Carlos Ruiz won't serve his suspension until the season begins in April, but in a very real sense, his punishment for testing positive for amphetamines began this week.

It began Wednesday, when Ruiz spoke publicly for the first time since MLB announced his 25-game suspension last November. Or it began Tuesday, when Ruiz arrived at Phillies camp and met with his manager.

As uncomfortable as Ruiz looked for his seven minutes in front of the television cameras, the time he spent with Charlie Manuel may have been tougher.

Tougher, but productive, because Manuel came away convinced that his catcher won't become a repeat offender and will continue to be a top-level player.

"I trust him," Manuel said. "I know him, and therefore I trust him. I got on him [Tuesday]. I got on him good. The things he said, I trust him. I don't think it'll be a problem at all.

"I don't think he'll ever do it again, that's what I think."

Ruiz admitted Wednesday that he had taken Adderall, a drug that players are only allowed to take with a medical exemption (which Ruiz didn't have). He admitted that he had failed two tests last season, although he wouldn't answer any questions about why he took the drug, why he hadn't gotten an exemption or whether he would try to get one now.

"I want to put that behind me," Ruiz said, after apologizing to fans and teammates. "I'm going to do my best. I made a mistake and I paid.

"Major League Baseball has rules. When you make a mistake, you have to pay."

The Phillies will have to pay, too. Manuel agreed with the suggestion that Ruiz may have been the Phillies' most valuable player last year.

"Yeah, I was upset when I heard about [the suspension], Manuel said. "Chooch is a big part of our team. He's developed into one of the best catchers in baseball. [Yadier] Molina is good, but Chooch is right there with him."

Manuel said that Ruiz seemed to be "really hurt" when the two spoke. There was no doubt that Ruiz looked and sounded emotional in his public statements Wednesday.

"We're disappointed," general manager Ruben Amaro said. "He made a mistake. He's going to pay for it. We'll pay for it."

Manuel said he expects Erik Kratz to be the Phillies' main catcher while Ruiz serves his suspension. Ruiz is permitted to go through spring training as usual, but will miss the first 25 games of the season.