Russell Martin wants to play shortstop for Canada in WBC
With A's catcher George Kottaras already on Canada's World Baseball Classic roster, Russell Martin thinks he could better help the team at shortstop.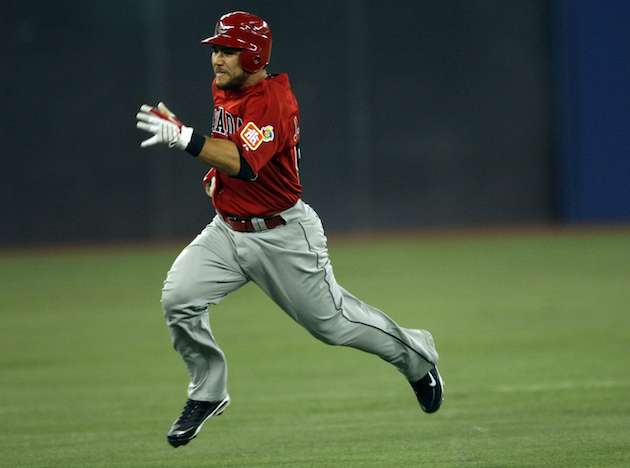 Russell Martin played for Canada in the 2009 World Baseball Classic. (Getty Images)
Free-agent catcher Russell Martin wants to play for Team Canada in the World Baseball Classic, but the 29-year-old apparently has a pretty strange request. He wants to play shortstop.
Because Oakland catcher George Kottaras is also on Canada's roster, Martin said he'd be willing to fill in at a different position.
"If it's something that would help the team, I am willing to do it," Martin told David Waldstein of The New York Times. "I told [Baseball Canada head coach] Greg [Hamilton] I want to do it, and he said he's open to it."
Martin has played third base and shortstop for Canada and even logged one game at short as a 19-year-old for the Dodgers' Gulf Coast League affiliate a decade ago. He has played 15 games at third base in the majors and two innings at second base. His second base stint was in 2011, and he also played four innings at third over three games in 2011. All eight of his big-league starts at third base came for the Dodgers in 2008, his third year in the majors.
Martin said shortstop is his "most natural" position.
He also said he expects to play in the field more in the future in the big leagues.
"Over the course of this next contract, it's all about getting my offense up," said Martin, who hit just .211/.311/.403 last season with the Yankees but did have a career-best 21 home runs. "If I can do that, it will open up the possibilities for me to play other positions."
A free agent, Martin said he has yet to hear from the Yankees but has heard from other teams. Waldstein reports the Mariners, Rangers and Red Sox have interest in the three-time All-Star.
For more baseball news, rumors and analysis, follow @EyeOnBaseball on Twitter, subscribe to the RSS feed and "like" us on Facebook.
Gonzalez was reportedly killed in a car crash in Cuba

Our Black Friday FA shopping guide includes a starting pitcher, slugger, super sub, and re...

Get 15 percent off any order of more than $75 at CBS Sports Shop
Need a gift for someone who loves baseball? We're here to help as the holidays approach

Several prominent Japanese-born Mariners and ex-Mariners have said they will help as well

Get your sports fans something that they'll wear all year