Russell Wilson will throw out first pitch at April 2 Rangers game
Seahawks quarterback Russell Wilson will throw out the ceremonial first pitch in Texas on Wednesday when the Rangers host the Phillies.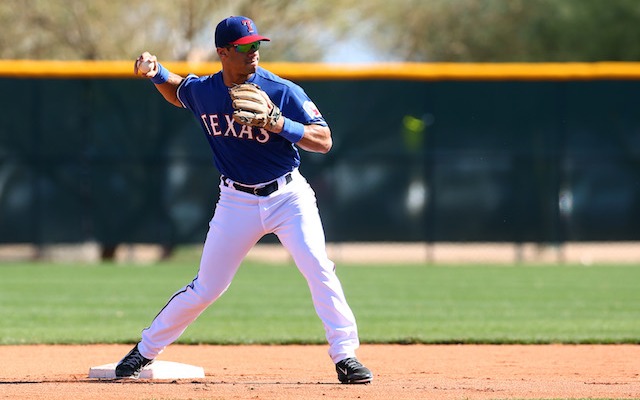 What's more exciting than watching Russell Wilson throw a touchdown pass? Watching him throw out a ceremonial first pitch at a Major League Baseball game.
Actually, the touchdown pass is probably more exciting, but you can judge for yourself on April 2 when Wilson throws out the ceremonial first pitch for the Rangers in their 8:05 p.m. ET game against the Phillies. 
Why the Rangers? Back in December, Texas selected Wilson in MLB's Rule 5 Draft, which transferred his baseball rights from the Rockies to the Rangers. Since then, Wilson has been wearing a Rangers uniform almost as often as he's been wearing a Seahawks uniform. 
Wilson has his own Rangers baseball card and he even worked out with the team on March 3. Wilson isn't the only one wearing a 'Russell Wilson' Rangers jersey either, apparently, everyone else in Texas is too. Wilson's Rangers jersey was one of the top-sellers in early March. 
If you're a 49ers fan hoping that Wilson embarrasses himself and botches the first pitch, that probably won't happen because he's actually a veteran throwing them out. The Seahawks quarterback threw out the first pitch last June in Seattle when the Mariners hosted the Yankees. 
If you need a non-Russell Wilson reason to go to the Rangers-Phillies game, how about cheap hot dogs: Wednesday is Nolan Ryan Beef Dollar Hot Dog Night at Global Life Park in Arlington, Texas. Beef hot dogs are good, but they're even better when they're only a dollar. 
The Twins need help in the rotation, and they may look to the trade market to find arms

Here are the bullet-points of what went down Tuesday regarding MLB and the Braves' punishm...

The owners need to ratify on the new system in place, but the takeaway here is Ohtani is coming...
A preliminary report National Transportation Safety Board has shined some light on details...

John Coppolella was placed on the permanently ineligible list by MLB on Tuesday

Among other sanctions, Atlanta lost the player who was deemed the No. 1 international signing...