Ryan Braun continues to be bothered by thumb injury
Ryan Braun's right thumb is hampering him at the plate right now, and the issue may not go away.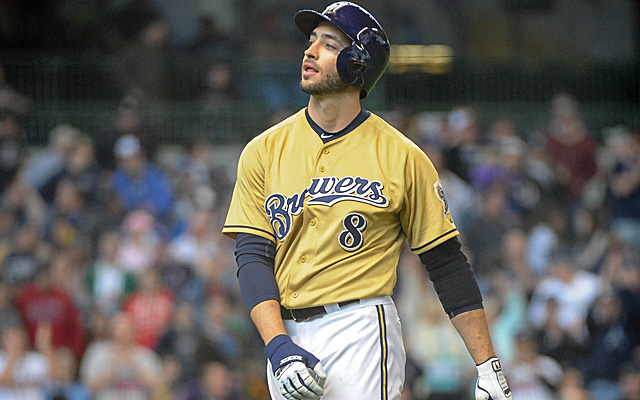 More MLB: Scoreboard | Standings | Probable Pitchers | Sortable Stats | Odds
The 2014 season isn't even a week old, but Brewers right fielder Ryan Braun is already dealing with a significant amount of pain in his right thumb. This was an injury that kept him out for a few weeks last season and it has now caused him to be benched for Saturday night's game in Boston.
It sounds like something that won't be going away, either. Here's Braun, via jsonline.com:
"It's frustrating. I've dealt with it a long time. I'm optimistic that eventually we'll figure something out to make it better. But when it gets to the point where I can't come close to taking a normal swing, it's counterproductive to the team and to me to continue to play."

Asked to describe the feeling he has gripping the bat, Braun said, "The analogy is if you touch a hot stove, no matter how badly you want to keep your hand there, the natural reaction will be to take your hand off it. That's kind of what happens every time I make contact, when it gets bad. No matter what I want to do or try to do, I can't keep two hands on the bat.

"I've tried lots of different things, different padding. Hopefully, we'll figure something out, some type of treatment, something that eventually helps."
This isn't even remotely an issue of toughness. If a hitter can't properly hold onto the bat with a firm grip, his performance will obviously suffer.
Braun also told the reporters that he was presented with two options for surgery in the offseason but that neither were desirable (jsonline.com).
"One (surgery) is I would never feel anything in my thumb again, which didn't make sense. The other is they would completely remove the nerve. That doesn't make sense, just long-term, living life.

"In the other one, there would still be nerve endings because they would remove the nerve but the nerve endings would still be there, which could be really painful. [Hand specialist Don Sheridan] said he didn't think that would be a great option either."
So, basically, it sounds like this is going to be a problem throughout the season for Braun. He's off to a poor start, too, as he's 1-for-16 (.063) and hasn't gotten a hit since his second at-bat of the entire season.
The Yankees have come back from a 2-0 hole for the second time this postseason

McCullers was outstanding after battling back problems for most of the second half

The projections continue to favor an Astros-Dodgers World Series
The story centers around a building in Chicago, where Billy Jurges was shot by a jilted lo...

From 1 to 25, the L.A. Dodgers have the squad to overcome the pitfalls of October baseball

After Tuesday night's win over the Cubs, the Dodgers are now 6-0 in the 2017 playoffs