Ryan Braun opted not to have thumb surgery during PED suspension
Ryan Braun is again being bothered by a nerve issue in his thumb. Why didn't he have surgery during his suspension? There's a good reason.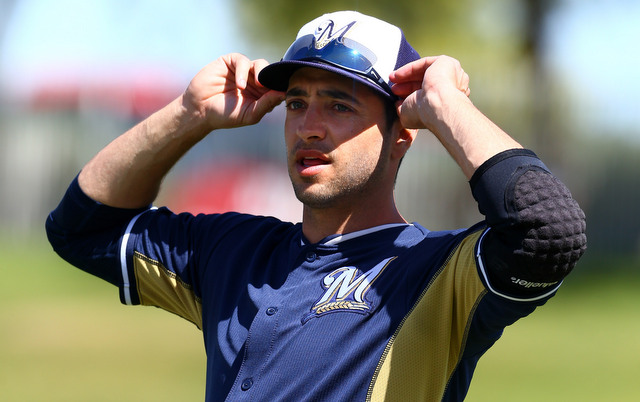 More MLB: Scoreboard | Standings | Probable Pitchers | Sortable Stats | Odds
Brewers outfielder Ryan Braun was out of the lineup on Saturday because a nerve issue in his right thumb is bothering him again. He missed close to a month with the problem last season.
Braun was suspended 65 games for his ties to Biogenesis last year, which gave him time to rest and let the problem heal while the team was out of contention. He raked in spring training but the injury has gotten worse with each at-bat.
Braun continues to say he will try to play through the injury and avoid surgery, which would likely cost him a big chunk of the season. So, then, why didn't he just have the surgery during his suspension last year? Turns out there is a good reason. From MLB.com's Adam McCalvy:
"The only two surgeries we knew of last year, neither of them were appealing," Braun said. "Look, I rely on the advice of people who are much more knowledgeable on this stuff that I am. The only two surgeries they described last year, one is I would never feel anything in my thumb again, because they would completely remove the nerve. That doesn't make sense just long-term, living life. The other one, there would be nerve endings, because they would remove the nerve but the nerve endings would still be there, which could be really painful, and [Dr. Don Sheridan, the specialist who examined Braun several times] said he didn't think that would be a great option, either.
Braun said a third procedure became available this spring, which Dr, Sheridan "thinks could potentially work, but it's not something that's been done very often." Surgery is almost always a last resort and it's a not surprise he's trying to avoid it.
For now, Braun says he will continue to get treatment and hope the issue improves. He is unable to hold a bat properly, which helps explain his slow start to the season. Braun has gone 1-for-16 with a walk, two strikeouts and a stolen base his four games this year.
The Brewers will look to finish off a sweep of the Red Sox in Fenway Park on Sunday. Braun is back in the lineup, playing right field.
The Marlins are indeed in teardown mode under new ownership

The Marlins still have more attractive pieces

The A's need outfield help, and the Cardinals have a glut
Minnesota has designs on the best starting pitcher available on the free agent market

The Cardinals have long coveted the Miami outfielder

The superstar slugger is eligible for free agency after next season