Ryan Dempster's biggest crime: Making A-Rod look like a calm hero
Red Sox pitcher Ryan Dempster deserves a lengthy suspension for trying to hit Alex Rodriguez with four different pitches.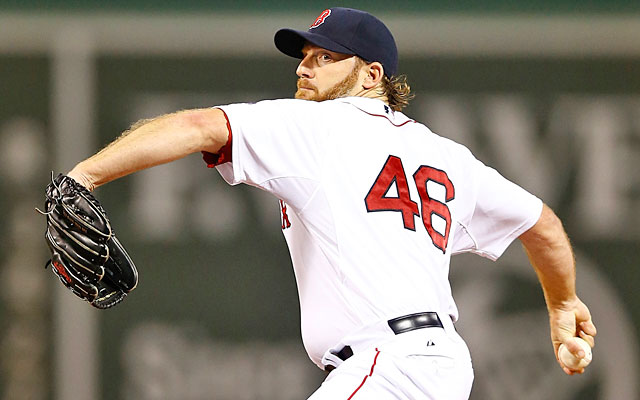 Red Sox pitcher Ryan Dempster achieved the extremely unlikely. Dempster made Alex Rodriguez look like the level-headed, fair-minded one Sunday night in Boston.
Dempster aided in making A-Rod a hero, at least to Yankees fans for one night, anyway.
With Dempster's four consecutive lame attempts to nail Rodriguez, Dempster appointed himself baseball's arbitrator. Fancy that. He doesn't have a law degree, he hasn't seen the evidence and he is a member of the union that signed off on the appeals process and is vigorously challenging Rodriguez's 211-game ban.
Yet somehow, Dempster thinks he knows better.
And apparently he believes that inflicting pain in the form of a 92-mph fastball is the remedy to rampant PED use. Interesting thought.
Rodriguez certainly doesn't deserve our admiration for receiving that suspension through the 2014 season for using performance-enhancing drugs, or for the way he has behaved before or after receiving the unprecedented penalty. Not for his fakey denials, not for having a camp that would leak incriminating evidence against others, not for throwing out wild allegations against the Yankees and Major League Baseball. Not for turning the season into a circus.
But oddly enough, A-Rod sure looked like the guy in the white hat Sunday night in Boston, where he handled the quadruple beaning (pathetically enough, Dempster missed A-Rod on his first three attempts to hit him before nailing him with the 3-0 pitch) with grace. As crazy as he has acted off the field, Rodriguez seems to understand he should behave professionally while playing.
He is smart enough to know not to argue balls and strikes, or to lash out on the field. The worst you're going to see from A-Rod is a funny look, a personal specialty. So when Dempster nailed him, Rodriguez wisely let manager Joe Girardi handle things, and handle them he did, throwing a fit that was not to be believed while cursing out Demspter (according to lip readers).
Meanwhile, Dempster is the one who embarrassed himself, first by needing four pitches to hit Rodriguez, then by lying about his intentions later.
Dempster might be able to fool home-plate umpire Brian O'Nora, but he isn't fooling anyone with the BS that he was simply trying to throw inside. Worse still, Dempster's manager John Farrell took the BS route, too, also lamely claiming he believed his pitcher was only trying to pitch inside. They must think we are all idiots.
Demspter's first pitch went behind Rodriguez's legs, and two more were well inside before Dempster finally hit his target, nailing A-Rod in the elbow with a 92-mph fastball on 3-and-0.
Dempster wasn't ejected by home-plate umpire O'Nora, who made the quick and wrong decision to warn both teams rather than eject Dempster. That actually worked against Dempster since it meant he stayed in the game long enough for Rodriguez to get his revenge in the form of a 446-foot home run to dead center field leading off the sixth inning.
That happens to Dempster a lot when facing the Yankees. But it was afterward when Dempster really embarrassed himself.
He told reporters: "I was just trying to pitch inside."
He also said he had no problem with Rodriguez, and there was no purpose behind his pitch.
No one bought it.
Ultimately, what's worse than the vigilante justice was not standing up and saying why he did it -- not that we couldn't guess. Dempster's rotation mate John Lackey opined aloud that he believes Rodriguez shouldn't be playing during the appeals process, which is a reasonable opinion, and Lackey went out and played impressively and professionally, beating the Yankees without incident Saturday.
Dempster, conversely, told the writers he had "no" problem with A-Rod. Just wanted to pitch inside. Blah, blah, blah, blah, blah.
If Dempster wanted to make a statement, he should have made one. Fibbing about the purpose of his pitches isn't going to inoculate him from suspension, anyway.
Everyone saw it. Everyone knows what was going on.
MLB on-field arbitrator Joe Torre isn't going to be fooled by Dempster's lame fibs, or Farrell's for that matter. MLB is reviewing the situation. It shouldn't take long.
Dempster deserves a suspension that will knock him out at least one start -- not that it will be any great loss for the Red Sox, since they are pretty deep in starting pitching and he has a 6-9 record and 4.77 ERA.
He deserves the stiffest penalty possible for attempting to bean a player, any player, no less than four times.
And he deserves a little extra for not explaining his multiple misguided actions and instead trying to play us all for fools.
It's part of commissioner Rob Manfred's ongoing effort to improve pace of play

But one other team is prominently in the mix for the Marlins' slugger

Morgan went into the Hall in 1990 and has some strong words for PED users
Mark Appel was one of the players being moved about on Monday night

Garrett Cooper is the answer to a trivia question

We still don't know if Ohtani will be jumping to the majors yet