Ryan Howard deal wasn't such a great idea (but cutting him is absurd!)
Ryan Howard is having a rough year, but he's too good (and too expensive) to be released.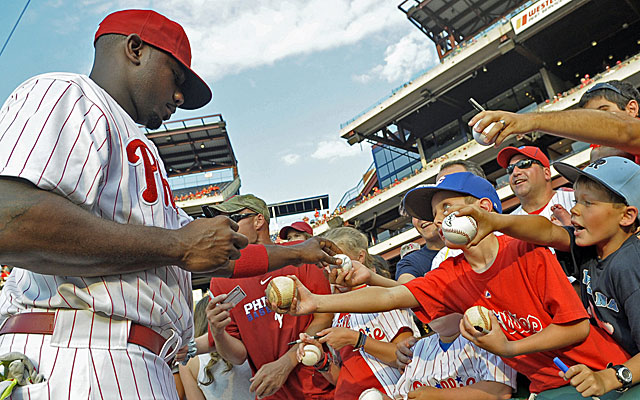 More MLB: Power Rankings | Expert Picks | Latest news & notes | Fantasy news
Signing Ryan Howard for $125 million for five years obviously wasn't a great idea. Releasing him with $70 million to go (or even $60 million at year's end) would make even less sense.
Howard hasn't been good this year, and he especially hasn't been good lately. He has a .682 OPS that isn't good for a middle infielder, much less a slugging first baseman. Even so, it seemed to come out of nowhere when Jim Salisbury of CSN Philly reported that team officials have discussed possibly releasing Howard at year's end.
Those officials probably are frustrated by the performances of a few of their players relative to their contracts. But releasing Howard makes little sense.
And here's why ...
1. While he isn't performing well, he still is on pace for about 25 home runs and 100 RBI with 15 and 60 to date. He's below average (the OPS is 126th out of 160, as Ryan Lawrence of the Philadelphia Daily News pointed out).
2. He has no off-field issues, and he's no sort of trouble.
3. They have no obvious replacement (i.e. a young Ryan Howard type).
4. He has $60 million to go even after this year.
5. Did I mention he has $60 million to go?
Think about how the Braves handled the release of Dan Uggla, who was easily the worst player in baseball this year, sitting on the bench for weeks with a relatively puny $19 million to go on his deal. They waited until they had no choice.
Of course, the Phillies aren't the Braves. Their budget is much higher. The Phillies also aren't in a race. The Braves had to move on.
And Howard isn't Uggla, either. Not even close.
While the $125 million deal is a bust (I was wrong about that, too, praising them at the time for keeping it to five years when other big stars were getting much longer deals), Howard isn't worthless. While he has been bad, especially lately, he is, after all, sixth in the NL in RBI.
Howard hasn't been the same player since ripping apart his Achilles on the final play of the 2011 season, and he probably shouldn't be in the National League. It's quite possible the Phillies have found no takers on the trade market, but they may need to wait for the winter, and they may need to try harder.
While Uggla was worth nothing (.162 hitters clearly aren't tradeable), Howard is worth about "$3-to-$5 million a year" as an American League player, according to one rival executive. While that isn't a lot, it's not nothing.
It's hard to know what the motivation is for a Phillies official to mention the possibility of a winter release to a Philly writer, and it's certainly possible a release is some sort of consideration, even if it's a remote one. But it could also bean attempt to spark something in Howard, or maybe even make him understand that he'll have to waive his extensive (21 teams) no-trade clause if it comes to that.
If that's the case, that's fine. But if they're serious, and flush $50 million or $60 million down the toilet, they will look really bad (maybe even worse than a writer who endorsed the move).
Keep it locked right here for everything you need to know about the world of baseball Tues...

There have been several racially charged incidents at Fenway Park this year

Washington's right fielders have sputtered offensively since Harper went down
The good news? Wichita still has a chance to win the series Tuesday night

The 2017 season is going to shatter the all-time collective home run record

Ferrell somehow avoided going to the ground