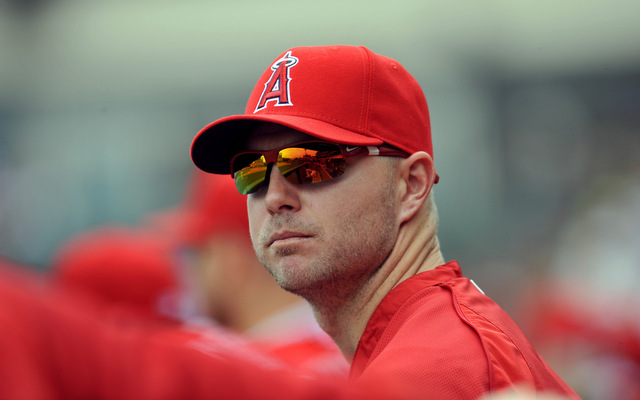 More MLB: Scoreboard | Standings | Probable Pitchers | Sortable Stats | Odds
Right-hander Ryan Madson has not pitched in a game since the 2011 NLDS, when he was still a member of the Phillies. He signed a one-year contract with the Reds the following offseason before blowing out his elbow and requiring Tommy John surgery in spring training. This past offseason he signed another one-year deal, this one with the Angels.
Madson, now 32, has yet to pitch for the Angels due to continued complications from his elbow reconstruction. He's dealt with numerous setbacks during the rehab process and isn't particularly close to returning to a big league mound. It has been a long and frustrating process, for sure.
While speaking with MLB.com's Alden Gonzalez recently, Madson indicated he is in favor of the use of human growth hormone (HGH) by injured athletes under the watch and prescription of doctors. From Gonzalez's article:
"If HGH were legal," Madson said, "just in the process of healing, under a doctor's recommendation, in the right dosage, while you're on the [disabled list], I don't think that's such a bad idea -- as long as it doesn't have any lasting side effects, negative side effects."

(snip)

"Right now," Madson said, "it's cheating. I've never done anything like that, and I won't."

(snip)

"But I will still believe, even if I get healthy without that," Madson added, "that it should be legal, in the right dosage, under supervision, with doctors, for the only purposes to help heal and get players back in the Major Leagues. Because people want to watch them, because of their talents, just to get them back on the field to play. That's it. I think it would be good for the game; I think it would be good for the fans. Fans want to see the best players play, and they want to see the players that they watch come back from injury and stay back. I think it would be a good thing."
Madson acknowledged he is not well-versed in HGH and its affects. He was just speaking as a frustrated, injured player looking for a way to get healthy.
As Gonzalez writes, HGH can only be prescribed for very limited reasons right now according to US law, such as hormonal deficiencies or muscle-wasting diseases associated with HIV/AIDS -- the kind of stuff an injured baseball player typically doesn't have to worry about. I don't know much about the stuff myself, but I am generally in favor of anything that helps get people (and athletes) healthy as long as it isn't abused.
MLB implemented a random blood-testing program for HGH this season and is currently going to great lengths to investigate the South Florida anti-aging clinic Biogenesis, which has allegedly supplied athletes with HGH and other performance-ehancers.
Madson is currently limited to playing catch following his latest setback.
(h/t Deadspin)