Ryan Zimmerman has degenerative shoulder, may see time at first base
Nationals manager Matt Williams clarified Ryan Zimmerman has a degenerative shoulder, and he may see some time at first base.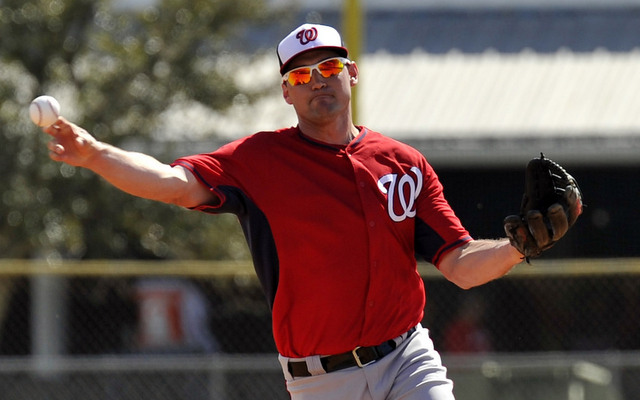 More MLB: Scoreboard | Standings | Probable Pitchers | Sortable Stats | Odds
An MRI revealed inflammation in Ryan Zimmerman's throwing shoulder a few days ago, but on Monday night, Nationals manager Matt Williams described it as an "arthritic" condition during a radio interview with 106.7 The Fan FM. Here is the quote, courtesy of Chris Lingebach at CBS Washington:
"But we have to look at Ryan, though, and say 'Would I like Ryan to play third?'" Williams said. "Yea, I would. For a long time? Yes. But the fact of the matter is, Ryan's got an arthritic shoulder."

"It gives him problems, and sometimes it's tough on him," he said. "So we've started to do some things at first base, with him, where we can give him a break sometimes, in that regard, so he can go play first; he enjoys playing first; we did a little bit at spring training, worked hard at the position, and he enjoys it over there.

"So it gives us options, it gives him an option to go play first when his shoulder's bothering him, or he needs a day, his legs need a day from playing third, or whatever it is. Those options are always there. So, do I see him moving to first? Yea, from time to time, but I would like him to be our third baseman for a long time. We have to take into account his shoulder, too. And that's a concern. It's a concern of his; it's a concern of everybody else. We're going to have to give him a break sometime."

"We look at it and say, it's a little bit of overload," Williams said. "We have to curtail that just a touch to make sure that he feels good. What does that involve? Maybe it doesn't involve as many throws. Maybe it's cutting down on the amount of grounders he takes in pregame. I know that he looks to go down, especially when it's cold, in the cage and throw. Maybe it's an adjustment to that, too."
On Wednesday, Williams clarified that Zimmerman's shoulder is "degenerative," not arthritic during another interview with 106.7 The Fan FM. Here's the quote, again from CBS Washington:
"Well, I think some clarification probably is in order first," Williams said Wednesday. "The word 'arthritis' kind of gets everybody, and everybody starts to talk about it. It's more of a 'degenerative' issue in his shoulder. He had surgery, they took a piece of bone out some time ago, and it's more 'degenerative' than 'arthritic.' As soon as you say 'arthritic,' people think that he's got to get on medication and it's gonna be a lifelong thing."
Playing Zimmerman at first base is a great idea, except the team is already paying Adam LaRoche a hefty $12 million salary to man the position in 2014. Not only are they paying LaRoche a ton of money, but he has been one of their best hitters in the early going, going 5-for-20 (.250) with two home runs and more walks (six) than strikeouts (four).
Zimmerman, 29, has been dealing with a shoulder problem for a while now, and it has really impacted his throwing. His throws across the diamond are erratic -- 28 throwing errors from 2012-13, including two in 2014 -- and they aren't getting any better. A move to first base is inevitable and will likely happen when LaRoche's contract expires after the season. Arthritic shoulders usually don't improve.
Gallardo spent the first eight years of his career in Milwaukee

MLB revenues are at a record high right now, but teams aren't spending it on players

Chicago added Tyler Chatwood earlier this offseason but might not be done adding to the ro...
The Dodgers and Braves pulled off a whopper on Saturday

Sabathia will reportedly spend a 10th season in the Bronx

Fowler suffered a knee injury at Chicago's Guaranteed Rate Field