Ryne Sandberg criticizes Papelbon for being unavailable Sunday
Phillies manager Ryne Sandberg was not happy his closer was unavailable for Sunday's game.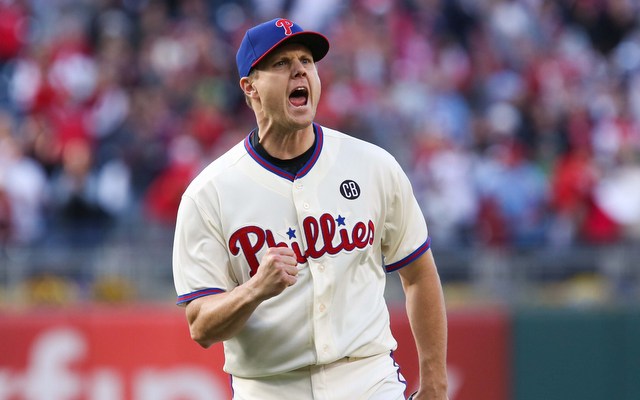 More MLB: Power Rankings | Expert Picks | Latest news & notes | Fantasy news
After pitching both Friday and Saturday, Phillies closer Jonathan Papelbon told manager Ryne Sandberg he was unavailable on Sunday due to soreness. He blamed the turf at Rogers Centre.
The Phillies lost Sunday's game 5-4 to the Mets in extra innings, partly because Antonio Bastardo and Roberto Hernandez combined to blow the save in the ninth inning. The team was off on Monday and Papelbon declared himself good to go on Tuesday.
Sandberg, however, wasn't happy when asked about his closer's lack of availability. From Matt Gelb of the Philadelphia Inquirer:
"Well," Sandberg said, "we need a closer that can go three games in a row and close three games. No question about that."

...

Can Papelbon, the game's highest-paid reliever, pitch on three consecutive days in the future?

"I sure hope so," Sandberg said. "That's his job."
Papelbon defended his lack of availability, saying he pitches "through a lot of soreness" and "wasn't comfortable with throwing." He also said he would have pitched if it was the postseason.
For what it's worth, GM Ruben Amaro Jr. stood by his closer. Here's what he told Ryan Lawrence of the Philadelphia Inquirer:
"He's just like anybody else, he's got some mileage and we have to keep an eye out on these guys, make sure they're good to go," general manager Ruben Amaro Jr. said. "If we risk having him not pitch one game so he can pitch 30 more, that's what we're going to do."
The Phillies owe Papelbon $13 million both this season and next, and his contract includes a vesting option for 2016. He's been outstanding this season -- 1.76 ERA, 0.98 WHIP and 11-for-12 in save chances -- but at 33 years old and with years of regular season and postseason innings on his arm, Papelbon is at a point in his career when pitching back-to-back-to-back days doesn't come as easily as it once did.
I understand Sandberg's frustration, but this probably isn't a battle he's going to win in mid May.
We don't need to discuss Chipper's Hall of Fame case, so let's have fun instead

Dioner Navarro still hopes to return someday

Christian Yelich's agent says his client's relationship with Marlins is 'irretrievably bro...
The free-agent market has been slow and one player is bracing for an even longer wait

The Mets didn't want to trade a young outfielder for an older one

Josh Harrison doesn't sound pleased Gerrit Cole and Andrew McCutchen have been traded away