Sabathia and Yankees look playoff-ready (but why was he still pitching in the eighth?)
The Yankees took back the lead in the American League East on Monday, with their 10-2 win over the Red Sox, combined with the Orioles' loss to the Rays. But why did they ask CC Sabathia to throw 103 pitches in a blowout game, when they're going to rely on him so much the next month (and might still need him Friday)?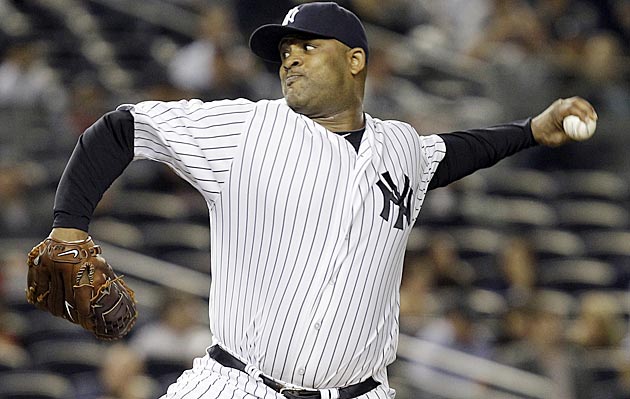 Sabathia baffles the Red Sox for eight innings, but probably should have been pulled after two. (AP)

NEW YORK -- CC Sabathia said he could still pitch Friday.
Or Thursday.

Or . . .

"Tomorrow," Sabathia said, when someone asked him Monday night when he'd be ready to pitch again. "Whenever. I'll take the ball whenever they need me to."

He will. You know he will. His history says he will.

But you've still got to wonder why the Yankees handed him the ball in the eighth inning Monday. Or even in the seventh.

You've still got to wonder why the Yankees allowed him to throw 103 pitches in a 10-2 game, a game that was over from the time they scored nine runs in the second inning. Or from the time Red Sox manager Bobby Valentine handed in his Triple-A lineup card.
More on Red Sox-Yankees
Related links
More MLB coverage

Why not give him a short night, considering how much the Yankees plan to rely on him over the next month? Why not pull him early, given that there's still some chance the Yankees will be in a wild-card play-in game Friday?

"I'm not worried about Friday," Yankees manager Joe Girardi said. "I'm worried about today. If you start thinking about tomorrow, you get yourself in trouble."

A Friday game seems a lot less likely now, with the Yankees leading the Orioles by a game in the American League East and with what remains of the Red Sox (mostly the PawSox) in town for the final two days of the season.

But even if you assume that the Yankees will win the AL East and Sabathia's next start will be in Game 1 of the Division Series, either Saturday or Sunday, it's fair to wonder why he was asked to pitch so much on Monday.

Girardi's next explanation was that he wanted to stay away from setup man David Robertson. Remember, the Yankees led this game 9-0 in the second, and 9-1 in the seventh.

The explanation after that was that David Phelps is starting for the Yankees on Tuesday, and he wanted a full bullpen, just in case. Remember, this is September. The Yankees have 12 pitchers in their full bullpen.

At least neither Girardi nor Sabathia claimed that he was still pitching simply to get him to 200 innings. That would have been the worst explanation of all.

The good news for the Yankees is that Sabathia seems to have answered the health questions that dogged him for the first half of September. His velocity is still noticeably down over last year at this time (one scout who advanced the Yankees in both September runs said Sabathia has lost 4-5 mph in a year).

But he has been ultra-effective and very impressive during his past three starts, and he and Girardi both agreed that his changeup Monday was the best it has been all year.

He looks playoff-ready.

"Like I said, it's time to go," Sabathia said.

He looks ready, but it's hard to forget that this is a guy who was on the disabled list twice this year.

One result of those two DL trips is that Sabathia enters the playoffs having thrown 30 fewer innings than he did any of the last three seasons. But another result is that you wonder whether all the work he has done over those years is catching up to him.

The Yankees need him to be at his best, or they won't be at their best.

They need him for another month, if they're going to go all the way. They didn't need him in the eighth inning Monday.

Maybe it won't matter. But maybe it will.


deGrom is set to become a free agent after the 2020 season

Perkins missed most of the last two seasons due to injury

Jonathan Singleton was suspended after a third positive test for a drug of abuse
Rodriguez will join Jessica Mendoza and Matt Vasgersian on the "Sunday Night Baseball" boo...

Jeff Wilpon talked about payroll on Tuesday, and it won't make any Mets fan happy

Yelich's agent recently asked the Marlins to trade him before the spring