Sabathia feels 'a relief,' answering one of many Yankees questions
CC Sabathia spent the second half of last season denying that his elbow was an issue, right up to the time the Yankees announced he would have surgery to clean it out. Sabathia admitted Tuesday that the elbow 'was always there,' and said he feels 'a relief' now. The Yankees, with so many other questions, hope that's true.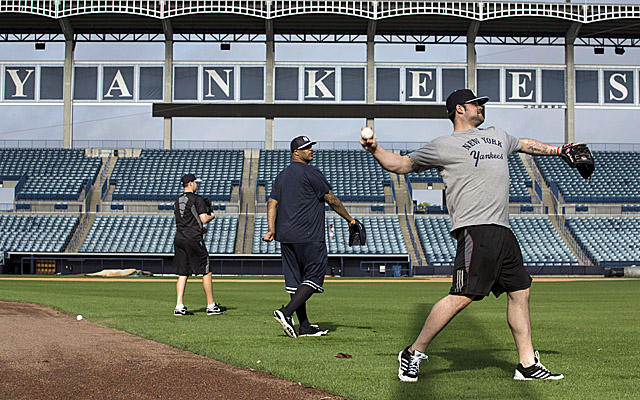 Joba Chamberlain (right) joins CC Sabathia in warmups as the Yankees get to work in spring training. (AP)
TAMPA, Fla. -- The Alex Rodriguez questions are a distraction.
The Derek Jeter and Mariano Rivera questions? Much more relevant.
The CC Sabathia questions? The Yankees really need to hope that there aren't many CC Sabathia questions.
There were last year, even as Sabathia won 15 games. There were, even as Sabathia pitched brilliantly in his first two postseason games, then faltered (along with the rest of his team) when called on against the Tigers.
There were, even as Sabathia kept insisting (even through two trips to the disabled list and plenty of other evidence) that his elbow wasn't an issue.
He admits now that "it was always there." He admits now that his extension and range of motion were affected.
And he says offseason surgery to clean up the elbow has made everything better.
"I definitely feel a relief," Sabathia said Tuesday, the day before the Yankees' first workout of the spring. "Having the range of motion back. Not having the achy feeling at the end of my extension. Definitely, compared to last year, to what I went through in the second half, I feel a lot better.
"Hopefully all that's gone."
We won't know for sure about Sabathia until he starts pitching in games, just as we won't know about Jeter and Rivera. The Yankees story for several years has been that they're getting old, but the story now is that they're old and trying to come back from injuries.
The company line on Jeter has been that his rehabilitation from ankle surgery has been just fine, that he'll be ready to play on opening day and that he'll be ready to be the player he always has been.
Maybe that's the way it really will play out. But even Yankees manager Joe Girardi admits that none of us (including Jeter) can really know that for certain yet.
"You want to see him," Girardi said Tuesday. "And you want to get over the 'I'm done worrying about him' stage.
"Same with Mo."
Yes, Rivera is coming off knee surgery that cost him the final four months of the 2012 season. He's also 43 years old, and no closer in baseball history has had even a 20-save season at that age.
But if we've learned anything about Rivera over two decades of watching his brilliance, it's that we should never underestimate him. The same goes for Jeter, whose age (39 in June) would be a concern even if he wasn't coming off a serious ankle injury.
We shouldn't underestimate the Yankees, even if they had a different kind of winter and enter spring training with far more questions than usual. There are plenty of ways this season could go bad for them, but as Girardi reminded us about a dozen times in a half-hour media session Tuesday, they did win 95 games last season, and that was the most in the American League.
They enter spring training without an established catcher. They enter spring training having given up some power.
General manager Brian Cashman insisted when last season ended that his Yankees would always base their offense around home runs.
"We're not going to be running Carl Lewis out there," Cashman said then.
"I think our offense is going to be different," Girardi said Tuesday. "There's going to be more speed."
Perhaps those questions could derail the Yankees, particularly in an American League East that seems more balanced top to bottom than ever before. But if this teams fails, it's much more likely to happen because the health concerns aren't answered than because they don't have enough talent.
"I think we already had the pieces in place to compete and win a championship," Sabathia said. "We'll go with what we have. . . . If we can stay healthy, we can put up a season like last year and win the division.
"I mean, we won 95, with pretty much the same team."
They won 95 games, even with Sabathia battling (and denying) his elbow problems.
He says it's much better now, but the questions will continue, about him and about his team.
That's more than just a distraction.
Boston wants to add two big bats to their lineup, not just one

Even more relievers signed on the final day of the Winter Meetings

Keep tabs on the top 50 free agents right here
The league is not happy Ohtani's medical information leaked

Kansas City and Baltimore were quite busy at the Rule 5 Draft

Piscotty's mother was diagnosed with ALS earlier this year