Sabathia says again that he's healthy, but the results say 'Are you sure?'
CC Sabathia insists that he's healthy, despite whispers around the game that he'll need postseason surgery to clean up his left elbow. Sabathia could silence the doubts with a dominating performance, but he was just ordinary in Friday's loss to the Rays.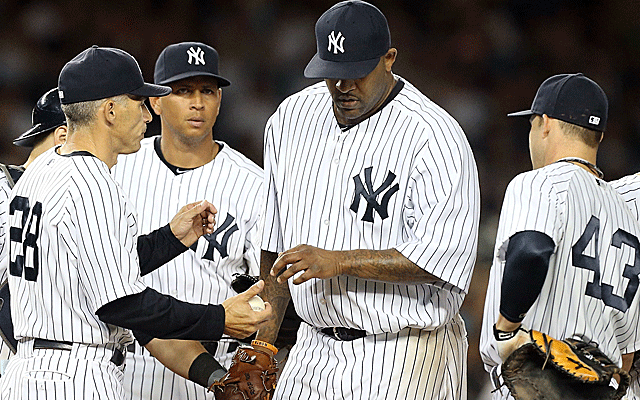 Of the seven leads he's held in his last five starts, the Yankees' CC Sabathia has given it back six times.
(Getty Images)
NEW YORK -- The questions will keep coming.

The whispers will persist.

Is CC Sabathia healthy?

He says yes. The Yankees say yes.

The results keep saying, "Are you sure?"

As one former big-league pitcher who watched Sabathia Friday night said, he looked like just an ordinary pitcher in his 6 2/3 innings against the Rays.

He had some velocity, but no late life on his fastball. There was no sharp break on his slider. His command wasn't there. And his numbers -- four runs on six hits and two walks, with only three strikeouts, in a 6-4 Yankee loss to a team that has been struggling to score -- were just ordinary.

"No wow factor," the ex-pitcher said.

Sometimes, those are symptoms. It's altogether possible they are now.

The whispers around the game are that Sabathia's left elbow is sorer than he and the Yankees are saying, and that he'll need surgery after the season to clean out bone chips or bone spurs.

"My arm feels good, Sabathia insisted again. "I'm just not making pitches."

Sabathia wasn't happy that he walked Carlos Pena in the Rays' three-run fifth inning, and he was even less happy that he went from 0-2 to 3-2 and then allowed a hard-hit double to Chris Gimenez.

"When I'm going good, things like that don't happen," he said. "Today should have been a day I went out and dominated. I had good stuff."

The velocity on his fastball, which gets so much attention, was a little better than it had been six days before in Baltimore. Sabathia's fastball was at 93 mph for much of the night, including into the seventh inning.

But the Yankees don't need velocity from Sabathia. They need consistency, and they need him to show he's capable of dominating games as he once did.

As recently as last year, Sabathia surrendered the lead just four times total in his final 17 regular-season starts. The Yankees have given him the lead seven times in his last five starts, and he has given it back six times.

"We keep talking about it, but it's time for it to show up," Sabathia said. "My arm feels good. My body feels good."

But does it?

As the ex-pitcher said, there's no way an ace like Sabathia is going to admit he's hurting, even if he is. We'll really only know when we either see the old Sabathia return -- or we find out after the season that he's having surgery.

There's a way to silence the doubts. The Rays' David Price did it Friday.

Price had missed his last start because of elbow soreness. The Rays insisted he wasn't seriously hurt, and his seven strong innings against the Yankees proved it.

Meanwhile, Sabathia was getting asked about Ivan Nova and Andy Pettitte returning to the Yankee rotation in the days to come.

"Hopefully they can help us out," he said. "Because I haven't been."

On that point, there's no doubt that he's telling the truth.


Pawol is expected to umpire in the minors again come the regular season

No. 3 Texas Christian is looking to ruin Long Beach State's return home

Martinez's physical isn't taking much longer than usual
The Rangers have a lot riding on Mike Minor and Matt Bush

Though the process is far from complete, taxpayers got good news Thursday

Dickerson had been designated for assignment by the Rays last week