Samardzija a great trade chip, but can he bring twice as much as Garza?
There is a widely-held perception it won't be possible for an acquiring team to extend Cubs ace Jeff Samardzija.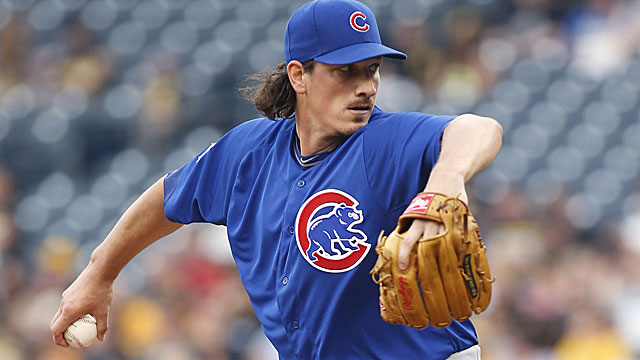 After seeing Cubs ace Jeff Samardzija's frustration boil over to the point where he snapped a bat in half over his knee in his latest good-start, bad-result performance, the thought that immediately jumps to mind is this: get this poor fellow out of Chicago.
However, it isn't as simple as it seems.
While Samardzija could substantially help any team with the possible exception of the pitching-rich Dodgers and Nationals, and is unquestionably one of the better trading chips out there, there are a couple complications in the Cubs' efforts to extricate their best haul.
Considering they received quite a stash last year from the Rangers for Matt Garza, who had at least a slight health question and was only a rental (including C.J. Edwards, Mike Olt and Neil Ramirez), the assumption is that they should be able to get at least twice as much for Samardzija -- who's not only healthy but fresh-armed and isn't a free agent until after the 2015 season -- giving an acquiring the opportunity to employ him in two pennant races but also to extend him a qualifying offer and earn an extra draft choice after 2015.
Those factors surely enhance Samardzija's value. But here are three things that don't:
1) Teams aren't as desperate for pitching as in past years, even good pitching, as most contending teams have decent pitching. It's undeniable: many more teams are having offensive struggles this year;
2) The pitching market is going to include Rays star David Price, who has a Cy Young award, has thrived in the AL East and like Samardzija also has a year and a half to go until free agency, and;
3) There would appear to be no hope to extend Samardzija to a long-term deal. At least that's the perception, after a turned down $85 million-plus from the hometown Cubs (sources confirmed that figure).
"No one's going to extend him. He's hitting free agency," one interested GM said with confidence.
That does, indeed, appear to be the case, as Samardzija's second goal, right after winning, is said to be to seek his fair-market price. He has turned down multiple Cubs' overtures over the years with that in mind, and it's hard to see him giving up that opportunity, not with the finish line in view. He also has the Frontline agency, which as the name suggests has a record for using the free-agent market for its frontline pitchers, as they have with Mike Hampton ($120 million), Cliff Lee ($120 million) and A.J. Burnett ($82.5 million plus opt-out).
"They take their clients to free agency," the GM noted.
Of course, it's a case by case thing. But Samardzija is no wilting-flower type. Rather, he's the type that seems to crave the chance.
In any case, it should still be a fairly spirited battle for Samardzija who you could easily see turning around that 2-6 record, with just a little help. His 2.53 ERA is good for ninth best among the 95 ERA qualifers. Meanwhile, only three other starters who have pitched enough innings to qualify have as few as two wins -- Ubaldo Jimenez, who has two, and Jake Peavy and Brandon McCarthy, who have one apiece -- and all of them are not too far from the bottom in ERA. Jimenez is 83rd, Peavy 88th and McCarthy 93rd.
Samardizja has won admirers for how he's handled his bad luck, the bat-breaking incident notwithstanding. He hasn't made excuses. He just keeps taking the ball, and being undermined by his teammates.
That doesn't go without notice, and at least eight teams already are being linked Samardzija, at least as possbilities -- including the Giants, Mariners, Cardinals, Braves, Yankees, Orioles, Red Sox and Blue Jays.
The Yankees aren't quite sure they'd have enough to do a deal, the Red Sox may want to wait awhile to gauge their most pressing needs and the Jays might actually prefer a "rental" pitcher (one who's a free agent at year's end) due to the lower price tag, but any of those teams could make sense on some level.
The Cubs, buoyed lately by the vastly improved play of first baseman Anthony Rizzo and shortstop Starlin Castro plus some very positive recent results from their top prospects, including slugger Kris Bryant, optimally would prefer to receive pitching in a Samardzija trade. But as with the draft, where they picked Indiana University catcher/outfielder Kyle Schwarber (plans are from him to play left), they ulltimately won't force pitching if it isn't there (Schwarber, by the way, is off  to a monster start).
Samardzija might like to go to the Yankees, Red Sox Giants or even Dodgers judging by his history of preferring the big stage (he did, after all, choose to play both baseball and football at Notre Dame). But in the end, while he has yet to complain about his non-support, you can imagine that any trade may at this point be a relief.
Boston wants to add two big bats to their lineup, not just one

Even more relievers signed on the final day of the Winter Meetings

Keep tabs on the top 50 free agents right here
The league is not happy Ohtani's medical information leaked

Kansas City and Baltimore were quite busy at the Rule 5 Draft

Piscotty's mother was diagnosed with ALS earlier this year