Samardzija says front office has no place in pitch limit talks
Cubs ace Jeff Samardzija doesn't think the front office should be a part of pitch count discussions.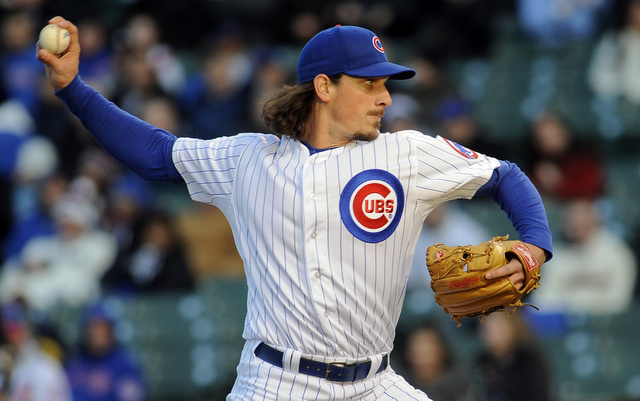 More MLB: Power Rankings | Expert Picks | Latest news & notes | Fantasy news
In what was an obvious attempt to help get him his first win of the season, Cubs manager Rick Renteria let right-hander Jeff Samardzija throw career-high 126 pitches on Monday. He held the White Sox to one unearned run in nine innings but wound up with a no decision when the game went to extra frames.
Naturally, the team's front office was a little upset about the relatively high pitch count -- GM Jed Hoyer said "I don't love it" in a few interviews -- especially since Samardzija will either be signed to an extension or traded for prospects at some point before he becomes a free agent after next season.
Samardzija's response? Butt out, basically. Here's what he told reporters when asked about the braintrust's unhappiness (via Chicago Sun Times):
"No. Absolutely not," he said when asked if he understood upper management's potential concern, "because this is an on-field issue for uniformed personnel. That's all there is to it. I'm a grown man. I'm 29. I'm not a prospect or 22. I feel good, and I'm grown up enough and responsible enough to understand when I can go out and when I can't go.

"I've earned my right in athletics to be able to understand my body and where I'm at."

...

"I don't really know how it was responded to by the front office. I didn't hear anything or read anything," he said, "but just from what it sounds like, there was a ­response. For me, it's just something that we need to handle here in the clubhouse.

"If [manager Rick Renteria] didn't like how many pitches I threw, then he'll come up to me and tell me, 'Hey, Jeff, that might not happen again, so enjoy it while you can,' which I'm fine with.

"But that's something we need to talk about, and I'm a grown-up; I can handle news like that, saying, 'Hey, we're going to keep you at 85, 90 next time, or anything like that, whatever it may be.

"But I trust Ricky, and Ricky is a very honest man. He's going to shoot me straight, and that's all I ask for because he's going to get the same from me."
Samardzija did say he understands the value of monitoring a pitcher's pitch count and his workload, adding that he supports it long as long as everyone isn't held the same standard. That makes perfect sense. Every pitcher is unique.
For what it's worth, Ken Rosenthal of Fox Sports says the front office considers Samardzija's little outburst a non-issue. They all seem to agree that throwing 126 pitches in an outing is fine as long as it doesn't happen every time out.