Sandy Rosario: Still Lord of the Transaction
Right-handed pitcher Sandy Rosario has appeared on the transaction wire for the fifth time this offseason.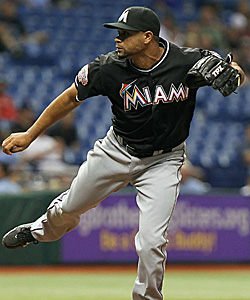 Rosario's moving again. (US Presswire)
"You're a celebrity now, Vaughn."
"I thought you had to do something good to be a celebrity."
"Not if you do it colorfully."
-- "Major League"
We can debate whether right-handed pitcher Sandy Rosario is becoming a celebrity colorfully, but he's certainly being distinguished this offseason for the number of times that he has appeared on the transaction wire.
Just over a week ago, my esteemed colleague, Dayn Perry, dubbed Rosario "lord of the transaction." And Friday, it happened again. Rosario has been claimed by the San Francisco Giants.
The updated transaction register for Rosario this offseason is as follows:
Oct. 17: Selected off waivers by the Red Sox from the Marlins.
Nov. 28: Traded by the Red Sox to the A's for a player to be named.
Dec. 10: Claimed off waivers by the Red Sox from the A's.
Dec. 12: Claimed off waivers by the Cubs from the Red Sox.
Dec. 21: Claimed off waivers by the Giants from the Cubs.
Even funnier: Rosario had previously never been on the move in his professional career. He was signed as an amateur free agent by the Marlins in 2004 and was with the organization until Oct. 17, as listed above.
For more baseball news, rumors and analysis, follow @EyeOnBaseball on Twitter, subscribe to the RSS feed and "like" us on Facebook.
We don't need to discuss Chipper's Hall of Fame case, so let's have fun instead

Dioner Navarro still hopes to return someday

Christian Yelich's agent says his client's relationship with Marlins is 'irretrievably bro...
The free-agent market has been slow and one player is bracing for an even longer wait

The Mets didn't want to trade a young outfielder for an older one

Josh Harrison doesn't sound pleased Gerrit Cole and Andrew McCutchen have been traded away