Santana will have shoulder surgery on Tuesday, ending Mets tenure
Mets left-hander Johan Santana will have surgery to repair a torn shoulder capsule on Tuesday.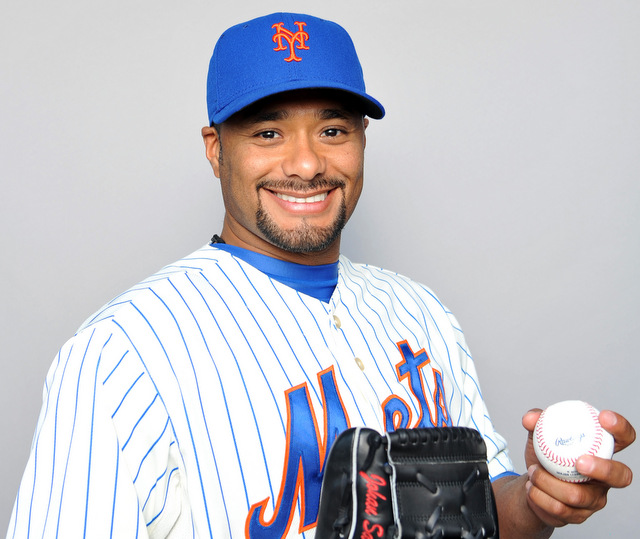 Mets left-hander Johan Santana will have surgery to repair a torn shoulder capsule on Tuesday, the team announced. The procedure ends both his season and tenure with the Mets.
On Thursday, we learned Santana had a "probable" re-tear of his shoulder capsule. On Friday, we heard he wants to pitch again but was still contemplating his next step with his family. He first tore the capsule and had surgery in September 2010, causing him to miss the 2011 season.
Torn capsules are very serious business, and most pitchers never come back the same from the first surgery, never mind a second. Returning to the mound following a second procedure would be a major accomplishment for Santana, who went 19 months between surgery and his return to the mound the first time around.
The Mets acquired Santana from the Twins for four players -- Carlos Gomez, Kevin Mulvey, Phil Humber and Deolis Guerra -- in February 2008. He then signed a six-year, $137.5 million contract extension that was the largest pitching contract in baseball history at the time.
Santana, 34, has gone 46-34 with a 3.18 ERA in 109 starts for the Mets. He went 40-25 with a 2.85 ERA from 2008-10 before the first shoulder procedure, twice finishing in the top five of the Cy Young voting. Last season, he went 6-9 with a 4.85 ERA in 21 starts before ankle and back problems ended his year in August.
On June 1 of last year, Santana threw the first no-hitter in the Mets' 51 seasons. He threw a career-high 134 pitches in the game and pitched poorly afterwards, though Dr. James Andrews told the left-hander the injury was "degenerative." That means it happened slowly over time rather than due to one specific event.
Santana is still owed $31 million through the end of the season -- $25.5 million salary plus a $5.5 million buyout of his 2014 option -- and GM Sandy Alderson confirmed the deal is not insured.
Kinsler will slot in at second base for the Angels

The Marlins got a better return for Ozuna than Stanton or Gordon

The two teams are going about things in very different ways
The Marlins are indeed in teardown mode under new ownership

The Marlins still have more attractive pieces

The A's need outfield help, and the Cardinals have a glut