Santana won't be ready to start Opening Day; Niese will get call
Mets officials won't say when Johan Santana will pitch but it won't be April 1 vs. the Padres.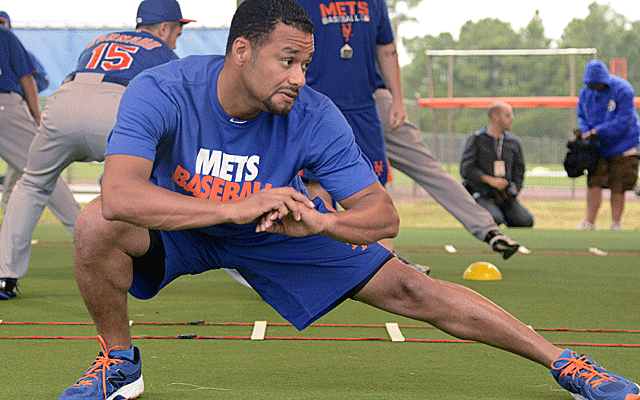 Mets GM Sandy Alderson says that Johan Santana didn't come to spring training ready to pitch.
(USATSI)
PORT ST. LUCIE, Fla. -- Johan Santana won't make the Opening Day start, it has become clear in Mets camp.
The real question right now is: When will Santana be ready to pitch? That isn't known yet, and no one was willing to take a guess at that in Mets camp.
Mets people won't officially say Santana will not be ready to start the season, but he hasn't pitched off a mound in 11 days, and there's no timetable stated for him to start. Jonathon Niese, who has been superb this spring (1-0, 0.71), is slated to make the Opening Day start now.
Manager Terry Collins came the closest to revealing Santana's status when he said about the likelihood that Niese would get the April 1 Opening Day assignment vs. the Padres, "There's a strong possibility that's going to happen.'' Niese is lined up to pitch the opener 15 days from today after throwing five innings of one-run ball against the Braves Sunday.
Other Mets people spoke about how important it is to get Santana right, and some mentioned how they'd like him to be strong to finish the season. But no one suggested Opening Day was even a remote possibility.
Most Mets officials are trying to avoid the topic altogether, possibly in part because Santana had such a negative reaction to general manager Sandy Alderson saying 15 days ago that Santana didn't come to spring training ready to pitch.
The Mets were surprised Santana wasn't ready to pitch to start spring, but while Alderson didn't characterize their feeling about Santana's lack of readiness, the veteran pitcher seemed to take it hard; he surprised the Mets by staging an impromptu throwing session from a mound as a reaction to the Mets' reaction.
Santana has what has been described as a "weak'' shoulder. He finished the 2012 season on the disabled list. His season included the team's biggest highlight, the franchise's first ever no-hitter, but he struggled after throwing that June 1 gem against the Cardinals. Santana has thrown off flat ground this week, but his next mound appearance remains unknown.
Niese, after throwing five strong innings against the Braves, said he heard it's "leaning toward'' him for the start, before adding, "I haven't been told officially.'' Niese, who allowed two hits, one walks, one run (on a Chris Johnson home run) in five innings, said the Opening Day assignment "would be an honor.''
Young right-hander Jeremy Hefner, who's had an excellent spring (1-0, 2.93), will take the fifth spot in the rotation with Santana out. 
Ellsbury is due at least $68 million over the next three seasons

Wright was arrested at his home Friday

The former Tigers teammates were voted into Cooperstown by the 16-person Modern Era Commit...
The Yankees still have room for a good-sized signing even after Saturday's trade with Miam...

St. Louis gets some much needed help for their bullpen

Keep tabs on the top 50 free agents right here