Scary: Miguel Cabrera so far in 2013 is better than in 2012
Through 33 games this year, Miguel Cabrera is off to a far better start than he was last year -- when he won MVP and the triple crown.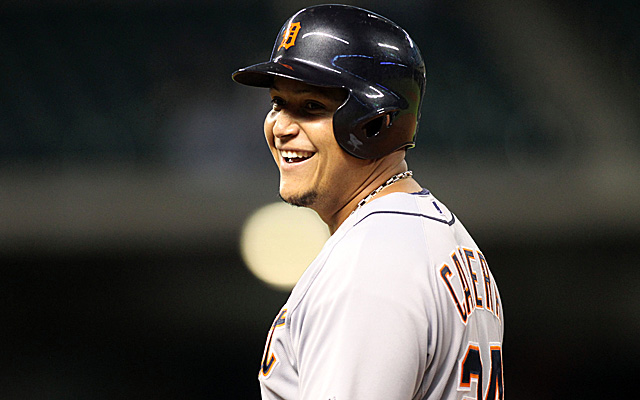 More MLB: Scoreboard | Standings | Probable Pitchers | Sortable Stats | Odds
The Tigers still have 129 games left this season, so there's obviously lots of time for a slump to happen, but it's still worth mention right now: Through 33 games, 2012 American League MVP and triple crown winner Miguel Cabrera has been better than he was last season.
After going 2-for-5 on Friday night with a double, a prodigious home run and three RBI -- as the Tigers crushed the previously white-hot Indians -- here's where Miggy stands:
.382/.455/.618, 52 hits, nine doubles, seven homers, 40 RBI, 27 runs, 17 BB, 19 K
And here's where he was through 33 games last season:
.282/.336/.481, 37 hits, five doubles, seven homers, 27 RBI, 17 runs, 10 BB, 21 K
In 161 total games last season, here was Cabrera's final stat line:
.330/.393/.606, 205 hits, 40 doubles, 44 homers, 139 RBI, 109 runs, 66 BB, 98 K
And here's what he's on pace to do this year (we'll calculate out to 161 games again):
.382/.455/.618, 254 hits, 44 doubles, 34 homers, 195 RBI (!), 132 runs, 83 BB, 93 K
Again, there will be a slump at some point -- or will there? But for now, Cabrera is both baseball's best and most fearsome hitter. And, in my opinion, it's not real close.
The Red Sox and Cardinals are expected to make trade offers next

The free agent first baseman may be a fit in St. Louis

The front office changes in Atlanta continue
The Marlins are more likely than you think on our list

Judge finished a distant second in the balloting and he paid respect to the winner

Stanton just won the 2017 NL MVP award but could wind up being dealt this offseason