Scherzer had help, but also earned his chance at 20-win season
Max Scherzer's season shows why wins are an imperfect stat, but also why a 20-win season is a huge accomplishment.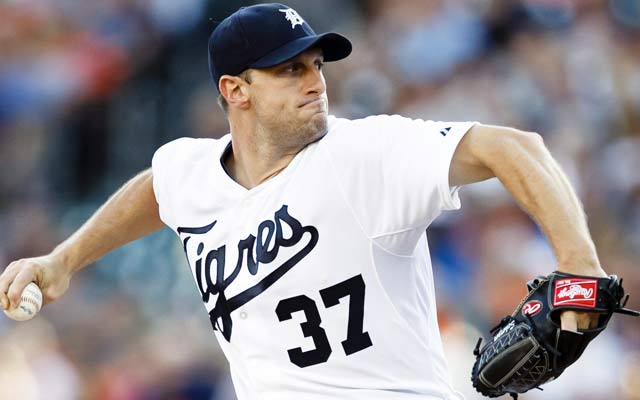 Max Scherzer looked as good as he has all season in a Sept. 3 game in Boston.
He lost.
Scherzer gave up five runs, the most he has in a game all season, in an April 24 game against the Royals.
He won.
Let's acknowledge that, right up front (because Scherzer would). Let's acknowledge that wins are an imperfect stat for a starting pitcher (and downright useless for relievers).
"For me, if I win 20, it's a team achievement," Scherzer said the night of that game in Boston.
It is . . . kind of like the MVP award is a team achievement.
If you play on a better team, you've got a whole lot better chance at being the MVP -- if you have a great season. If you play on a team that scores runs on the days you pitch, you have a whole lot better chance at winning 20 games -- if you have a great season.
The Tigers have scored tons of runs in Scherzer's starts. Only three starting pitchers in baseball have had better run support this year.
The three guys with better run support (Ryan Dempster, Felix Doubront and Anibal Sanchez) have 32 wins between them.
Scherzer has 19, and gets another shot at his 20th on Friday night against the White Sox.
He got this far because of help from his teammates, but also because he became a better and more consistent pitcher this year.
"He added a curve, and all his other stuff got better," Tigers pitching coach Jeff Jones said. "And his delivery has been more consistent."
The result is that Scherzer has had 20 starts where he allowed no more than two earned runs. The result is that Scherzer has had 16 starts where he finished at least seven innings, and only four where he didn't finish the sixth.
He stayed in games long enough to give his teammates a chance to score all those runs, and long enough so that he often handed the ball to an eighth-inning setup man, or directly to the closer.
Twenty-win seasons have become rare. Scherzer could well be the only 20-game winner in the majors this year. Some years there are two or three, maybe four in a good year.
It's not easy, in the era of five-man rotations. It's not easy, in the era of closely-watched pitch counts.
And yet, it's still a milestone prized by pitchers.
"I'd say that for most starting pitchers, their No. 1 goal when they start the season is 20 wins," A's pitching coach Curt Young said. "It means your team is winning games when you pitch. That's a great measuring stick."
Managers, coaches and front-office people still talk in terms of double-digit winners, 15-game winners and 20-game winners. They understand that pitchers don't have complete control over wins, but also that some pitchers never put themselves in position to get that many wins in a year.
Scherzer needed help to get to 19, and he'll need help to get the 20th. He lost that Sept. 3 game in Boston 2-1, and last Sunday in Detroit, he left with a 2-1 lead after seven and watched the Royals tie the game in the eighth.
He's 0-2 with two no-decisions (and a 4.70 ERA) in four starts since going to 19-1 with his Aug. 24 win over the Mets. He has two more chances to get to 20, Friday against the White Sox and next week against the Twins.
There's no reason to think anything less of him if he doesn't get there. We only talk about 20 wins because it's a nice round number, the same way we celebrate someone's 2,000th hit and not the 1,999th. But it's not like a guy with 1,999 career hits had a significantly different career than the guy who finished with exactly 2,000.
And, oh by the way, the difference between 1,999 hits and 2,000 could be a ball that gets by third baseman with no range, or a fly ball that drops in because the outfielder lost it in the sun.
Stats don't need to be perfect. Counting pitcher wins is highly imperfect.
That doesn't make it useless. The game is still about winning, and this year Max Scherzer has done that as well as anyone.
Does that mean he had a better season that Clayton Kershaw, who has 14 wins (with a better ERA than Scherzer, more innings and more strikeouts)? Clearly he didn't, no matter how many wins he had.
But just as Kershaw told Scott Miller that his goal is to "win every start," the best starting pitchers all want to win consistently.
Calling him a 20-game winner would be one way of acknowledging that Scherzer has done just that.
Even if he pitched better in some of his losses than he did in some of his wins.
Neither Josh Donaldson nor Brian Dozier have talked about a new contract extension

Francisco leads the Dominican Winter League with seven home runs

Thome deserves enshrinement and here's why the case against him does not hold up
The Twins have already fortified the bullpen with Addison Reed, and now they want to address...

The Orioles likely want pitching, and the Indians have plenty of it

Halladay died in a November plane crash off the coast of Florida