Scioscia looks to future following different kind of Angels' power play
Mike Scioscia sat on the bench in the dugout nearly three hours before Wednesday night's game, just as he has for nearly 13 years here. He answered pre-game questions from the media, just as he has for nearly 13 years here. But this was unlike any day he's ever had here. ...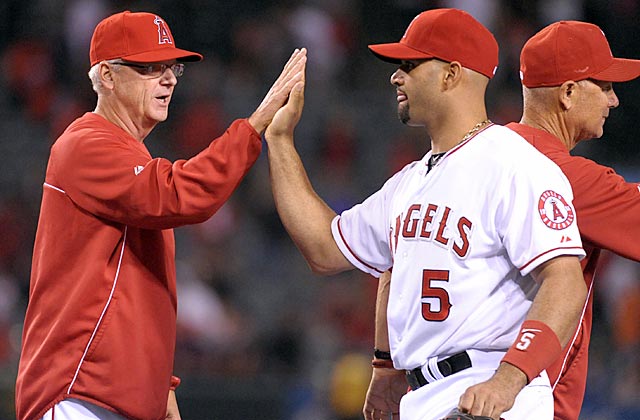 In Jim Eppard's (left) first game as hitting coach, Albert Pujols goes deep and the Angels win. (US Presswire)
ANAHEIM, Calif. -- Mike Scioscia sat on the bench in the dugout nearly three hours before Wednesday night's game, just as he has for nearly 13 years here. He answered pregame questions from the media, just as he has for nearly 13 years here.
But this was unlike any day he has ever had here.
Hitting coach Mickey Hatcher, the first sacrifice that surely will include several more if the extraordinary train wreck that is the Angels doesn't turn things around, was sacked Tuesday evening.
"Mickey is a great teacher, great hitting coach and we all respect what the general manager's office is about and the moves Jerry's looking at to move us forward," Scoiscia said. "And we'll move forward."
He picked his words slowly. Carefully. He was solemn.
Never before, not in nearly 13 years here, had one of Scioscia's coaches been fired.
But it is a new day. And clearly, much of Scioscia's power within the organization has been curbed.
"I've thought long and hard about it for quite some time," rookie general manager Jerry Dipoto said roughly 20 minutes later, of axing Hatcher.
Manager and GM did not brush up against each other on the field. There was no public contact. No small talk, no idle chatter.
Scioscia spoke in the dugout.
Dipoto spoke on the grass in front of the dugout after the manager was finished.
A business deal uncomfortably concluded.
The manager was asked how hard he fought to try and save Hatcher's job.
"I'm not going to get into any of that," Scioscia said. "Obviously, the GM's position is to try and make changes, whether it is personnel or staffing, that he believes is going to help us better.
"And we have to respect that."
Clearly, Scioscia is not on board with swapping Hatcher out for Jim Eppard, who was the hitting coach at Triple-A Salt Lake.
But clearly, he also is a man who now is very aware of his own limitations.
"I had a discussion with Mike," said Dipoto, who declined to say whether the manager resisted the move. "I won't go any further than that."
These are ugly days under the sun in Southern California, where an earthquake fault line has been discovered running smack dab under Angel Stadium. You don't underachieve this badly with a club-record $151 million payroll, nor with Albert Pujols in the first year of a 10-year deal paying him $240 million. Not without some serious seismic tremors.
The Angels have handled things very poorly for pretty much all of 2012, from plate appearances with runners in scoring position to the Pujols-Hatcher dustup two weeks ago.
Life always was going to be different with Pujols, but two weeks after the (one-time) slugger publicly chastised Hatcher for spilling innocuous secrets from a hitter's meeting, I still don't think the Angels understand the new lay of the land.
Both Scioscia and Dipoto vehemently denied Hatcher's gassing had anything to do with Pujols' lecture two weeks ago or with any ongoing unhappiness on the part of Pujols with Hatcher.
Asked directly whether Pujols had any influence whatsoever in this decision, Dipoto offered only a quick, terse, "No." He did not elaborate.
Said Scioscia: "That thing was way overplayed. It was nothing. That's the bottom line. It was over played. It really was nothing."
Still, they don't get it. Nothing is overplayed when it comes to the great Albert Pujols. Especially when he's hitting .212 with one home run and 14 RBI in 37 games. He is game's greatest player over past decade. It is by far the richest contract the Angels ever have awarded.
It was Pujols who took the initiative in upbraiding Hatcher. And the Angels did a poor job to diffuse the situation.
Nobody stepped forward at the time to back the hitting coach. Not the GM, not Scioscia and not any of his players. Instead, Scioscia insisted there was "nothing to resolve."
If this was New York, it would have been on the back pages of the tabloids for a week. Especially when no Angel offered even a half-hearted, "Mickey's done a good job here as the hitting coach for 13 years now."
"I don't think [Pujols] brought it up in the context in which it was portrayed, to be honest with you," Scioscia said Wednesday. "It got legs, someone put gasoline on it and that's what happens. That's all."
Given who Pujols is, that's not the way it works.
"It was a non-issue," Scioscia insisted.
But even with a chance at a do-over Wednesday, the Angels still didn't get it right.
Pujols? Offered a chance to say something about Hatcher -- anything -- before the game, he declined comment.
"No, I don't want to talk about that," Pujols said. "Because you guys are looking for a story."
A few hours later, after belting a three-run homer in the Angels' 7-2 win over the White Sox, Pujols finally said this: "I have a lot of respect for Mickey. He never took his job for granted. He was a guy who was always positive. That's something I admired."
As for the "looking for a story" part, there's no need to look. They're all around with the 2012 Angels.
They're just not the stories they would prefer to tell.
"We were not in an offensive funk because of Mickey," Scioscia said.
Dipoto spoke of the need for a "new voice" in the organization, noting that there is no single reason to finger for the offensive struggles.
"Obviously, the way the offense has gone and the struggles we have had, shut out eight times in 36 games, they're not easy decisions to make," Dipoto said. "You think long and hard about them and have a lot of discussion and, obviously, this was a decision made for the organization."
He said Eppard has been in the organization for 10 years and "knew the right things, he teaches the right things, he talks about the right things."
Eppard has a history with some of the younger Angels who have come up through the organization: Mark Trumbo, Howie Kendrick, Mike Trout, Erick Aybar. He has none with two of the biggest problem children, Pujols and Vernon Wells.
"Different voices appeal to different players," Dipoto said. "Somewhere along the line, the voices that helped them the most, they heard it for the first time, once."
For a long time in Anaheim, Hatcher's was one of those key voices.
And on a day unlike any other in his nearly 13 years here, suddenly, oddly, Scioscia's voice isn't as strong as it once was, either.
"Mike has done a fabulous job here through the years," Dipoto said. "This is a reflection of where we are offensively, and I'll leave it at that."
If the slow-play for Martinez, Hosmer and Arrieta sounds familiar, it should

The Nats will host the All-Star Game in 2018

The Orioles are looking to trade Machado heading into his walk year
The Cardinals have been linked for a while to the Baltimore star

Gallardo spent the first eight years of his career in Milwaukee

MLB revenues are at a record high right now, but teams aren't spending it on players