Scoreless All-Star start 'absolutely incredible' for Matt Harvey
Two batters into Tuesday night's All-Star Game, NL starter Matt Harvey of the host Mets appeared to be in trouble. But then Harvey settled in and dominated. And it's a night that he said he'd never forget.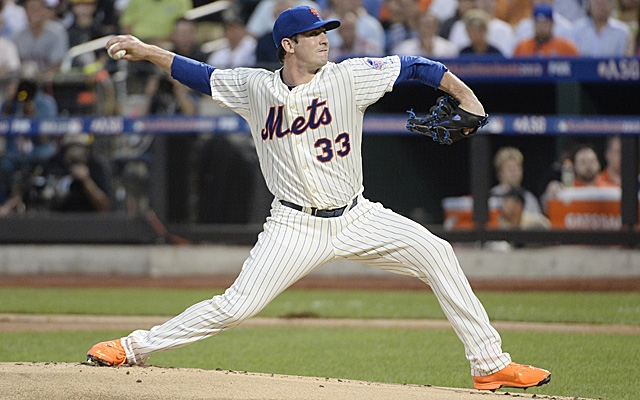 NEW YORK -- After Mike Trout led off with a double and then Robinson Cano was hit with a pitch in the outside of the knee, hometown NL All-Star starter Matt Harvey of the Mets was on the verge of a nightmare start. After all, he had runners on first and second with Miguel Cabrera coming to the plate.
"That was the one I knew I was going to have to buckle down, and obviously the last thing I wanted to do is get down 3-0 with no outs in an All-Star Game," Harvey said. "I knew that I had to make good pitches, and obviously throwing to the best catcher in the game [Yadier Molina], it makes it a lot easier just to trust him and go with what he calls."
And, from there on out, Harvey was dominant.
He struck out Cabrera. He coaxed Chris Davis into a lazy fly ball to center and then got Jose Bautista swinging to end the inning.
In the second inning, Harvey was totally in control, getting a David Ortiz fly out, Adam Jones strikeout and Joe Mauer fly out.
The final line: 2 IP, 1 H, 0 ER, 0 BB, 3 K.
Not too shabby, especially after the rocky start.
The fact that he was the starter and pitching in his home park made the moment that much more special.
"It was so much fun," he said. "Just being in the locker room with all the guys, the whole experience -- the red carpet, it being in New York and starting -- as a kid, I don't think you could have dreamed of doing something like that. It was a tremendous honor and something I'm very thankful for."
"When I'm warming up out there and [the fans] start chanting my name, that's -- again, that's something that you, as a kid, I don't think you could ever imagine. This whole experience has been absolutely incredible for me. Something I'll never forget."
He's only 24. He has made only 29 career starts. And he likely has already experienced one of the most unforgettable moments of his career. What a year 2013 has been for Matt Harvey.
Your one-stop shop for all things MLB Winter Meetings-related

Matt Harvey could be on his way out of New York

The Nationals are looking to improve on the edges of their roster
Ellsbury is due at least $68 million over the next three seasons

Wright was arrested at his home Friday

The former Tigers teammates were voted into Cooperstown by the 16-person Modern Era Commit...