Scott Boras discusses Mike Trout, Bryce Harper contract situations
With Mike Trout's extension having come through Friday night, Scott Boras was asked about his young client, Bryce Harper. Not surprisingly, he had an interesting way of discussing the situations.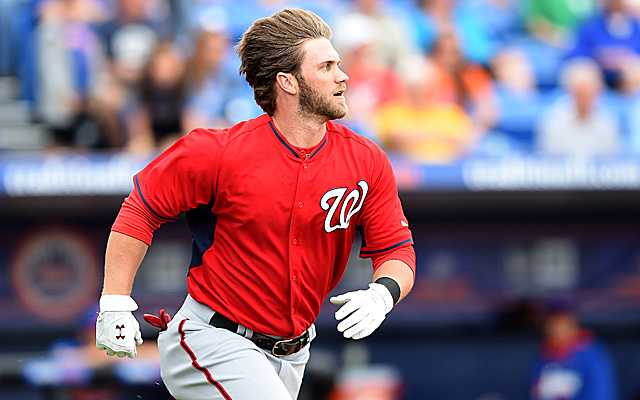 MORE: Predictions | Spring Training | Scoreboard | Team previews
Angels phenom Mike Trout signed a six-year, $144.5 million contract extension Friday night. He's not a Scott Boras client. Nationals youngster Bryce Harper is, though.
Regarding whether or not the Trout deal might serve as a template for a future Harper deal, Boras had the following to say, via Adam Kilgore of washingtonpost.com:
"I have the pleasure and privilege of watching Mike Trout play every night," Boras said. "I think he's a very special cup of tea, for which he is deserving of a completely different brew. While few, I definitely consider Bryce Harper as part of the next generation of elite brand of teas. Certainly as a studied connoisseur, I may hold a differing opinion as to the availability, demand and value of tea futures."
Man, I love Scott Boras. What a quote machine.
Anyway, Boras is rather clearly saying that Harper is going to bide his time before thinking about an extension. It's hard to tell if he'll even think about an extension or if Boras intends his client to test the free agency market when he gets there.
In fact, he probably doesn't even know that yet. What he is firmly saying is that he prefers to wait and see how things shake out in the next several years -- at least at these rates. Remember, Boras suggested it would be "easy" to come up with a dollar figure for a 12-year deal for his client last season.
Harper isn't eligible to become a free agent until after the 2018 season. Lots can change before then. From Boras' point of view, he might be thinking he'll have a multiple-time MVP by then.
As things stand, though, Harper doesn't measure up to Trout. Through two full seasons (and change, when it comes to Trout), here are their per-162-game averages:
Harper: .272/.353/.481, 125 OPS+, 32 2B, 8 3B, 26 HR, 74 RBI, 107 R, 18 SB
Trout: .314/.404/.544, 166 OPS+, 35 2B, 8 3B, 30 HR, 95 RBI, 124 R, 41 SB
Harper is more than a year younger than Trout, though, and has dealt with more injury issues (albeit some self-inflicted).
Boras is betting on the improvement of his client. He doesn't always win his bets, but he does win a lot.