Scott Boras has a 12-year contract for Bryce Harper on his mind
When talking to Nationals reporters Tuesday, agent Scott Boras mentioned something about a 12-year contract for Bryce Harper.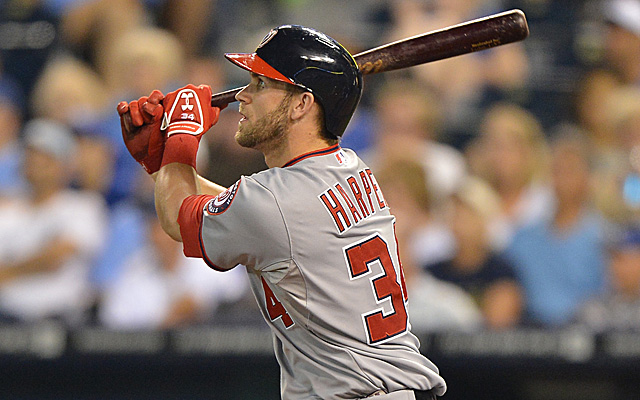 More MLB: Scoreboard | Standings | Probable Pitchers | Sortable Stats | Odds
Super-agent Scott Boras held court with Nationals reporters Tuesday and something equal parts funny and intriguing came up:
Scott Boras at the yard today. He laid out a not-so-abstract case for the Nats signing Bryce Harper to a 12-year contract.

— Adam Kilgore (@AdamKilgoreWP) August 27, 2013
Boras, asked how two sides could possibly come up with a number that works for a 12-year deal: "It's easy." He's too much.

— Adam Kilgore (@AdamKilgoreWP) August 27, 2013
I couldn't even begin to guess what kind of deal Boras would be willing to accept for his prodigy over a 12-year span and the Nationals' initial offer likely wouldn't even be in the ballpark of what Boras would ask for, but let's think through a 12-year deal.
Harper is still only 20 years old. If he signed a 12-year extension that begins next season, he'd be with the Nationals through his age-32 season. That's still smack dab in the middle of his prime. So that's a win-win -- Nationals don't have to worry about him breaking down due to age while Harper can eye free agency at a prime age.
Harper isn't arbitration eligible until 2016, so he won't be making big money until then. He can't hit free agency until after the 2018 season, so a 12-year deal beginning next season would eat up the entire arbitration period in addition to a whopping seven seasons of free agency.
What would Boras want for a talent like Harper over a seven-year period? He got more than $23 million per year over a nine-year deal with a seemingly limited market for Prince Fielder. Almost everyone with money will likely want a piece of Harper by 2019. So maybe a jumping off point is $30 million a year for those seven years and then some calculation as to what he would get in his three arbitration years.
With any long term deal, there's obvious risk. There's the fear of injury, underperformance and eventually getting into a "change of scenery" situation. So long as Harper quits running into walls, I see the risk there about as low as it can get on a 12-year deal (which is obviously still a bit high, considering that's a gigantic amount of years).
Think about it. Even Harper's detractors have to respect the unreal talent he possesses. He just became the third man in baseball history to reach 40 homers before his 21st birthday. He has speed, power, a great grasp of the strike zone for his age, a rocket for an arm and stays out of trouble off the field. He's absolutely no issue in the clubhouse, as his teammates love him.
If I'm Nationals general manager Mike Rizzo and Boras was actually serious, I'm starting discussion right now. It never hurts to see the number.
Maybe Boras provides a number so outlandish ($350 million?) that talks are immediately tabled. Maybe something reasonable is presented and the Nationals can lock up their potential Hall of Fame phenom for more than a decade.
Also of note, the Nationals have plenty of money. The Lerner family is the richest ownership group in baseball. Think about the upside of having Harper and his marketability around for that long, too. So how does 12 years, $250 million sound? Too risky? Too little for Harper?
Food for thought, and if Boras wasn't really serious, well, it's still fun to think about how to go about such a contract.
Then again, three trades in four days might be behind Jerry Dipoto's usual pace

Ohtani is arguably the best hitter and pitcher in Japan

The O's need rotation help, and Cobb is available for hire
The Red Sox and Cardinals are expected to make trade offers next

The free agent first baseman may be a fit in St. Louis

The front office changes in Atlanta continue