Scott Boras has strong words for Blue Jays ownership
The Blue Jays haven't done much to upgrade a last-place team this offseason. Agent Scott Boras believes it's because ownership isn't allowing the front office to spend the money it needs to spend.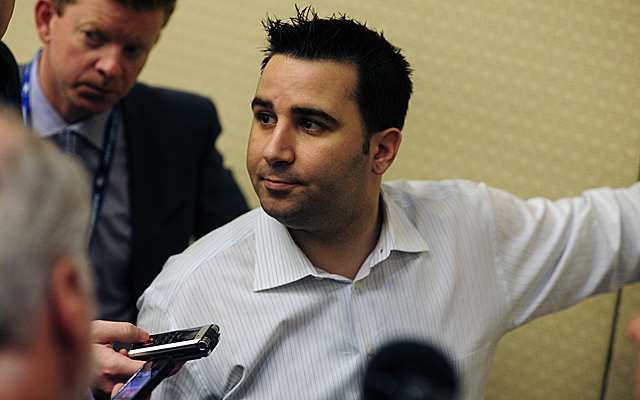 MORE: Spring Training | FA tracker: position players | FA tracker: pitchers
After a hugely disappointing 2013 season, the Toronto Blue Jays have done very little to improve their ballclub without outside acquistions this offseason. They badly need upgrades to the starting rotation, for example, as we detailed in the team preview. So why aren't they spending any money?
Agent Scott Boras has a thought, as he told Ken Rosenthal of Fox Sports:
"There is no one who has the asset base of Rogers," Boras told FOX Sports on Sunday, referring to Rogers Communications, the Jays' parent company.
 
"It's a premium city. It's a premium owner with equity. And it's a very, very good team that with additional premium talent could become a contending team."

Boras added, "They're a car with a huge engine that is impeded by a big corporate stop sign . . . a successful and committed ownership that needs to give their baseball people financial flexibility."
The Blue Jays had a payroll of roughly $120 million last season, ranking 10th in all of baseball and will top the $130 million mark this season. It appears they'll rank about eighth in all of baseball on that front.
Still, Boras isn't wrong about the club's resources and they definitely could have helped themselves with some more starting pitching.
For those wondering, Boras' stance doesn't seem directly related to his own clients. He's the agent for Stephen Drew and Kendrys Morales, but the Jays don't need a shortstop or 1B/DH type. Ervin Santana could still be a good fit for Toronto, but Boras doesn't represent him.
Within Rosenthal's story, Blue Jays general manager Alex Anthopolous denied Boras' assertion that ownership is withholding resources.
Sunday's MLB roundup features the D-Backs clinching a postseason spot and the Mariners going...

The 2017 season has been, by far, the worst season of Cabrera's career

The Mariners were eliminated from postseason contention with Sunday's loss
Maxwell became the first MLB player to kneel during the national anthem Saturday

The Blue Jays are not expected to bring Bautista back next season

The Dodgers have already clinched the NL West title, so the D-Backs will be a wild card te...