Scott Boras thinks Cubs should call Kris Bryant up
Should the Cubs have called up top prospect Kris Bryant this September? His agent, Scott Boras, believes so.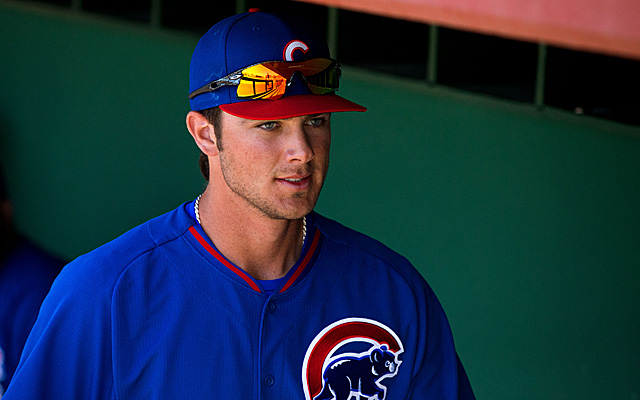 Rosters have now expanded across Major League Baseball, as the minor-league regular seasons have concluded and each big-league ballclub is allowed September callups. Perhaps the biggest remaining minor-league name, Kris Bryant of the Cubs, is not among the callups.
This wasn't a surprise, as the Cubs have insisted all season that he wasn't getting called up this year, but that didn't stop Scott Boras, Bryant's agent, from wondering why plans didn't change, via suntimes.com:
"But if this is a performance-driven industry as it should be, Bryant deserves the callup, based on performance," said Boras. "What's best for the player, what's best for the team in 2015? The goal here is trying to make the team the best it can be in 2015. And what can you do to ready him for that?"
What say you, Cubs president Theo Epstein? Again, via the suntimes.com story:
"I do think the presumption for a player finishing his first full professional season is that he won't be called up unless there's a dire need in the big leagues, unless he can contribute to a team that's in contention," Epstein said. "A first full professional season is a long grind, whether he realizes it or not. It's appropriate to go home and rest and go get some active rest physically and let some things soak in mentally and come back ready to go for what we hope will be a seven-month season for him next year.

"I certainly think he's close enough he can start setting his sights on the big leagues. Whenever that time comes, we don't know, but he's getting closer. There's a good chance if he continues to develop he'll spend the vast majority of 2015 in the big leagues. And we find a way to be a really competitive team, we're looking to play seven months, not six."
I don't really see either side as completely unreasonable.
Bryant's 138-game workload -- which doesn't even include spring training or All-Star Games -- is a pretty big leap from college and summer ball, especially given the travel demands he was facing for a first full professional season. With the Cubs not in contention, there's no reason to press him into action just to appease Boras and some fans. If a player is worn down, the injury risk goes up.
From Boras' point of view, he's just trying to get his client to the ultimate stage for baseball players. And one does wonder if Bryant isn't at least a bit irked he won't get the call. He hit .325/.438/.661 with 34 doubles, 43 homers, 110 RBI and 15 steals this season across Double-A and Triple-A. He's seen other Cubs promoted in front of him, none of whom performed as ridiculously well as he did -- at least not for the full season, as Jorge Soler's time was abbreviated due to injury. In a true meritocracy, we'd be hard pressed to say Bryant doesn't "deserve" it.
Of course, things are more complicated than that with service time, 40-man roster considerations and, again, the issue Epstein raised about physically wearing Bryant down when not in a pennant race. I also wonder if he definitely needs an adjustment period as badly as Javier Baez and Arismendy Alcantara needed them. He hasn't struggled at any level to this point in his professional career while the others had provided the Cubs reasons to believe they needed this end-of-2014 seasoning in the bigs.
To this point, Bryant has said and done all the right things and handled everything as professionally as possible. The Cubs won't be budging and have reasons that make sense. And Boras would like to get his client to the bigs sooner, as ultimately that's the path to more dollars for his client.
For me, it doesn't seem like there's anyone blatantly in the right or wrong here, but it's certainly an interesting discussion point.
Gonzalez was reportedly killed in a car crash in Cuba

Our Black Friday FA shopping guide includes a starting pitcher, slugger, super sub, and re...

Get 15 percent off any order of more than $75 at CBS Sports Shop
Need a gift for someone who loves baseball? We're here to help as the holidays approach

Several prominent Japanese-born Mariners and ex-Mariners have said they will help as well

Get your sports fans something that they'll wear all year