Scott Sizemore out for season with torn ACL for second straight season
Wednesday, the A's placed Scott Sizemore on the disabled list and announced he has re-torn his left ACL and will miss the rest of the season. He missed all of 2012 after tearing his ACL in spring training.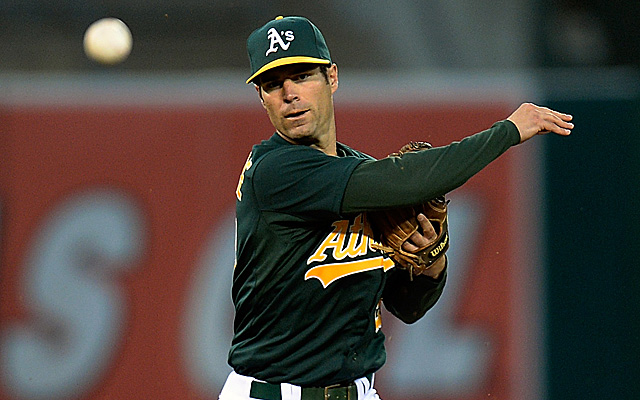 More MLB: Scoreboard | Standings | Probable Pitchers | Sortable Stats | Odds
Unfortunately, it's deja vu all over again for Athletics infielder Scott Sizemore.
Last February the A's announced Sizemore had a torn ACL in his left knee and would be forced to miss the entire season after undergoing surgery to repair the ligament.
Wednesday, the A's placed Sizemore on the disabled list and announced he has, in fact, re-torn his left ACL. It goes without saying, but for those who need to see it in writing -- he's out for the season.
Sizemore, 28, hit .245/.342/.399 with 11 homers and 56 RBI in 110 games with the Tigers and A's in 2011. He got six plate appearances for the A's as a second baseman this season, gathering a double as his only hit.
The A's can deal with this. They currently have Eric Sogard to play second and could swing Jed Lowrie to second once Hiroyuki Nakajima comes back from a hamstring injury. It's easy to see Jemile Weeks getting another shot as well.
But the story here is the agony Sizemore must be feeling. That's two consecutive seasons ruined by what is essentially a fluky injury out of his control. Send him your best positive vibes.
The lefty starter is coming off a terrible season

After acquiring Ian Kinsler and Zack Cozart in recent days, the Angels are trending upward

Cozart's coming off a big season as the Reds' shortstop
The veteran slugger spent the last eight seasons with Cleveland

The Padres may be poised for an active winter

Yes, Bryce Harper is going to make a lot of money next winter